Kay reinstated, banned from UA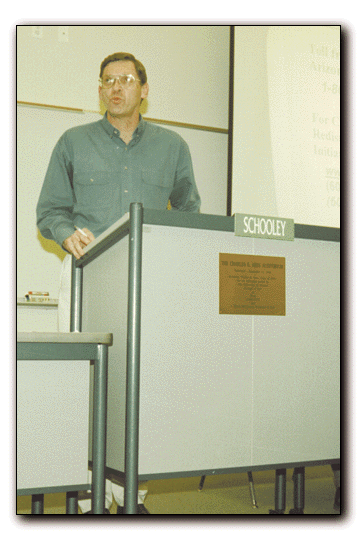 Matt Capowski
Arizona Daily Wildcat
Faculty Chairman Jerrold Hogle speaks to faculty senators yesterday about the reinstatement of Alzheimer's researcher Marguerite Kay. Kay was reinstated last week, but is banned from UA campus.
Marguerite Kay may have won her case against the university, but she can't set foot on UA property.
Kay was reinstated to her position as a microbiology and immunology professor Feb. 4, but University of Arizona President Peter Likins issued orders to keep her away from the campus.
"This is a vendetta that makes no sense," said Don Awerkamp, Kay's attorney. "Ultimately, it will cost the university more in litigation expenses."
Likins refused to comment on his reasons for keeping Kay away from the UA.
Kay did not return telephone calls last night.
Kay was fired in July 1998 after a faculty committee found her guilty of scientific misconduct. In December, Pima County Superior Court Judge Stephen Villarreal ruled the UA took "arbitrary and capricious action" in firing Kay, and ordered that the university reconsider Kay's case.
She was granted a yet-undetermined amount of back pay following reinstatement, and placed on administrative leave so that her case can be re-judged by university committees.
"It's necessary for Dr. Kay to receive a notice of proper dismissal," said Faculty Chairman Jerrold Hogle at the Faculty Senate meeting yesterday. "That's a very important step."
In a Feb. 4 letter to university department heads, Likins said that Kay was "restored to her former status," and pledged to follow the "appropriate process" for handling Kay's case.
But Awerkamp said Likins' statement is misleading.
"The status she had was 'active,' not on leave," Awerkamp said. "He's lied. Plain and simple, the president of the university has lied to the faculty."
Awerkamp said he was further angered by Likins' orders to keep Kay away from the UA.
"There's no basis for it," he said. "What has she done?"
Hogle said Arizona Board of Regents stipulations allow Likins to ban Kay from university property.
"It was not my recommendation," Hogle said. "(But) I understand that the president has the power to do it."
Faculty Sen. Roy Spece, a law professor, disagreed.
"It's completely improper legally," Spece said. "This is going to bring more lawsuits and more discredit to the university."
Spece and Sen. Andrew Silverman - also a law professor - asked Likins to reconsider his decision.
"As an institution of higher learning, we have higher morals," Silverman said. "I hope the administration would rethink that position."
Likins refused comment on Kay's case, and told senators he would not answer their questions.
"We are dealing with a legal matter, and I will not discuss legal matters in this Senate," Likins said.
In his Feb. 4 letter, Likins praised the work of the committees that originally recommended Kay's dismissal and asked for faculty cooperation.
"I encourage each of you to allow that process (Kay's new hearing) to take its course in this matter and to support those who devote their efforts to these serious tasks," he stated.
But Awerkamp said UA faculty members should be alarmed by Likins' actions.
"If the faculty lets them get away with it, this will be the end of tenure," he said. "The faculty should be up in arms about this."
Spece and Silverman - who co-authored a statement read to faculty senators - echoed Awerkamp's warning.
"Faculty are now at risk of arbitrary attack by the administration, which seems willing to justify its actions by administrative processes held to be illegal by the court," the statement said. "This is clearly the elimination of tenure as it used to exist at the U of A."