UA Student Satellite Project preparing to launch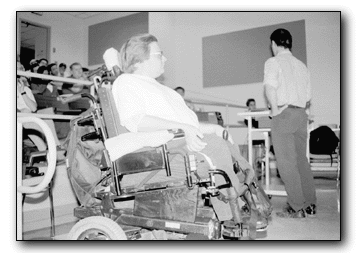 Matt Capowski
Arizona Daily Wildcat
Student Satellite Project manager Jon Alberding looks on as team member Jim Collins speaks to students in the Physics and Atmospheric Sciences building yesterday. The purpose of the project is to build and eventually launch a satellite into orbit.
A satellite designed and built by UA students may be launched by 2002.
Members of the Student Satellite Project - a group of about 80 University of Arizona students, faculty and staff - estimate that their satellite will leave Earth in the next two to three years.
The group is now working towards a preliminary design review. Prototypes have been designed, although no construction on the actual satellite has begun.
"It will not launch before 2002," said Brian Shucker, team leader for project's Guidance, Navigation and Control Team.
If the research continues as planned, the satellite will travel into space aboard a space shuttle. After orbiting the earth for nearly a year and taking the appropriate measurements, it will drift back towards Earth and be destroyed in the atmosphere.
While in space, the satellite has a threefold purpose, said project manager Jon Alberding, an aerospace engineering graduate student.
First, it is being designed to make a global survey of lightning strikes as well as an upper atmospheric phenomenon on Earth known as "sprites." Second, it will measure the amount of radiation from bright stars. Finally, it will serve as a laser communications experiment.
A substantial amount of construction will be completed by the team and what they are not able to build will be purchased, Alberding said.
This research is funded by the colleges of Science and Engineering, the Arizona Space Grant and private donations.
The project was founded in 1996 and has been called the brainchild of UA physics professor K.C. Hsieh.
Hsieh said the Student Satellite Project has several benefits, including bringing together people from many different colleges and departments, as well as allowing students to work with real-life situations.
"This would look very good on a resume," Hsieh said.
Shucker said the experience has been beneficial to him.
"I started with SSP last year doing work on control software," said Shucker, a computer science and math senior. "It is a better experience than you can get in the classroom. I got one internship as a direct result of SSP."