'Orchestra of voices' to perform at Crowder Hall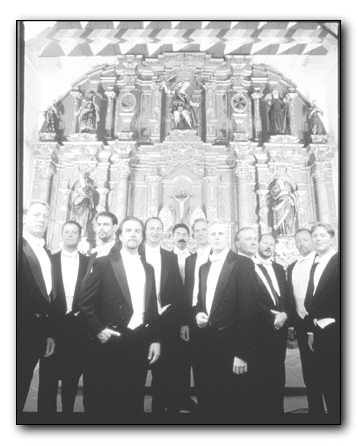 Arizona Daily Wildcat
photo courtesy of UA Presents "Chanticleer," a popular vocal ensemble, will perform tonight and tomorrow at UA Crowder Hall. The 12-member group was nominated for a Grammy in 1999.
The heralded a cappella vocal ensemble, Chanticleer, will showcase over 500 years of musical composition tonight and tomorrow at UA Crowder Hall.
Founded by tenor Louis Botto in 1978, the orchestra has met great national success, including a Grammy nomination in 1999.
The group members, however, are known for their voices as well as their innovation.
"Chanticleer is more than a chorus - they are a vocal chamber ensemble," said UA Presents publicist Tappan King. "They use their voices like the instruments in an orchestra."
Using their voices, the members of Chanticleer will reconstruct music from classical composers William Byrd and Francisco Guerrero, as well as a host of African-American gospel songs.
"In their concert, they will be performing songs from more than five centuries of music, from medieval charts to new music commissioned especially for this group," King said.
Appropriately named for the musical rooster in Geoffrey Chaucer's "Canterbury Tales," the group blends a wide range of vocal tones. Their pure and unique sound has led to their renown as "an orchestra of voices" by critics world-wide.
In its existence, spanning over two decades, Chanticleer has produced 20 recordings. Composers such as David Conte and Bernard Rands have commissioned works for the group.
King said the show will be held at Crowder Hall "to create a more intimate experience for the audience."
Prior to both shows, Josef Knott of the University of Arizona School of Music will hold free discussions for those interested in learning about both the group and vocal music.
The performances will begin at 7:30 p.m. Ticket prices are $20 for adults and $10 for students and children, available from Centennial Hall box office.