Cancer survivor climbs to fight disease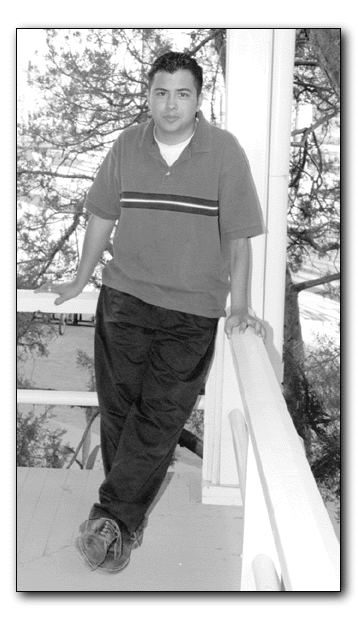 Arizona Daily Wildcat
Photo by: AMY WINKLER
Freshman biology major Gabriel Vega, a cancer survivor, stands on Old Main's balcony yesterday. Vega will participate in the Climbing "A" Mountain to Conquer Cancer on Saturday.
Standing in his Little League dugout waiting to bat, Gabriel Vega felt a small lump on his left arm.
Two months later, he had surgery.
As a 12-year-old, Vega was diagnosed with synovial sarcoma, a bone and connective tissue cancer.
"I was optimistic," said Vega, now a University of Arizona biology freshman. "The doctors were good and explained everything and made me feel comfortable with the treatments. I just looked forward to the next day."
On Saturday, Vega will hike 3.1 miles to raise money to research the disease he was lucky enough to have survived.
The 14th Annual Tucson Fire Fighters Associations' Climb to Conquer Cancer at "A" Mountain starts at Pima Community College West Campus at 8 a.m. Saturday.
"This shows how involved the community is," Vega said. "Fire fighters care, and they're out there to attract more people."
Vega had to quit the Little League team midway through the season as the rest of his life hinged on doctor visits and hospital treatments.
The coach was his best friend's dad, and the two boys had played baseball together since they were in T-ball, but haven't since.
"My teammates all supported me," Vega said. "They threw a party and gave me a signed baseball."
But for the rest of that 1992 season, Vega was absent from the dugout - in the hospital most of the time - while beginning his two-year recovery.
He hasn't been able to play sports since because doctors say even the slightest fracture of his left arm could result in amputation.
Vega went to his regular doctor after discovering the lump, then three more doctors who looked at his arm and several more after that.
"They went in, took out the malignant tumor, then went back in and removed muscle and tissue," he said.
"What followed was a two-year battle with cancer that was a constant reminder that my world might never be the same."
First came the chemotherapy, which kept Vega out of his sixth grade class for a week after each of his monthly treatments - which lasted for one year.
"When I was going through chemotherapy, I was too sick to think about anything," Vega said. "I was constantly vomiting and all I wanted to do was sleep."
"It's a painful drug that just takes over your body. When you are 13 years old, such pain and physical distress is unimaginable."
Vega later had surgery on his lung, but the doctors found no cancer.
After chemotherapy, Vega had to have radiation treatments for 24 straight days.
When he went back to class, Vega wore a hat to cover his bald head, even though he said his classmates were very supportive and understanding after a social worker came to speak to them about his condition.
The following summer, Vega went to Camp Sunrise for the first time.
Camp Sunrise, sponsored by the American Cancer Society, offers an invaluable retreat for children with cancer as well as their siblings, who often fade to the background as parents give more attention to sick children.
Vega has been going to the camp ever since and has been a counselor for the past two years.
"It's a wonderful environment to be in, knowing people around you have gone through the same thing," Vega said.
Last weekend, Vega was a counselor for about 40 children at the Camp Sunrise winter retreat in Payson. The American Cancer Society built cabins and lodges at the Boy Scout Camp there.
"Besides seeing bald children, it's a totally different environment with medical staff everywhere," Vega said. "It's a vacation from the normal hospital scene - time for them to get away and forget about everything."
"I will definitely continue with the camps. The little ones become family.
"It's tough when someone passes away, but we hope for better treatment and cures."
In junior high, Vega took off his hat.
Though still bald, he said it was his experiences at the camp that made him more comfortable with himself.
In 1994, Vega's dark hair grew back, curly at first, but soon became thicker and healthy.
Now, Vega hopes his studies in biology will someday lead him to his goal - being a pediatric oncologist, or cancer doctor for children.
"I see it as more of a positive in my life," Vega said.
Carolyn Smith, spokeswoman for the American Cancer Society, said this Saturday's event hopes to draw in 1,500 participants and raise $85,000 to fund camps and cancer research. Mark Dodson, a UA biochemistry researcher, will be there to talk about cancer research, which is funded in part by events like the climb.
"We believe that this event is absolutely crucial and a fun way to get people together and raise money," Smith said.
Tony Gonzales, Tucson fire fighter and chairman of the 2000 climb, said two thirds of the department will be walking in the event.
"(The climb) gives people that emotional tie to know cancer is beatable and treatable," he said.
Both acknowledge the positive contributions that Vega has made to the fight against cancer.
"He's been a great resource for us - he's definitely one of our best volunteers," Smith said. "It's people like Gabe who need our help. He's a survivor."
"Gabe attests to the services the American Cancer Society provides," Gonzales said.
"He's gone through a lot of things and he's still standing. He's doing great things with his life."
Vega recognizes the importance of the climb, not just as a symbolic gesture, but as a real way to make cancer survivable.
"If it wasn't for these events, the camps wouldn't be possible," he said.
"The program is just great," Gonzales said. "We'd like to see everybody out there and have a fun time."
Eric Swedlund can be reached at Eric.Swedlund@wildcat.arizona.edu