Chicano-Hispano student to leave legacy of success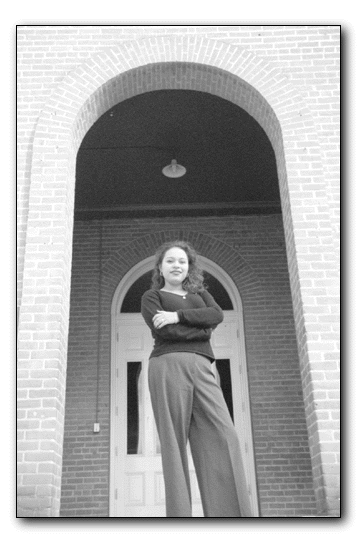 Randy Metcalf
Arizona Daily Wildcat
Mexican American studies senior Maria M. Rodriguez stands in front of Old Main yesterday. Rodriguez is being recognized for all of her achievements and leadership roles while at the UA.
MarÁa RodrÁguez's colleagues agree that her boundless spirit - strong, vocal and intense - contributes to her persistent enthusiasm and pride in helping both the Tucson and UA communities.
"She was always very positive, very proactive, very caring, very warm and very passionate about the things she was doing," said Jim Drnek, associate dean of students and Associate Students of the University of Arizona advisor.
"It's been quite wonderful knowing MarÁa for the last two years - she was one of the first (ASUA) senators I know who jumped onto social tolerance," Drnek said, adding that RodrÁguez feels it is everyone's social responsibility to be tolerant of those who are different.
Her involvement in community outreach, American Indian student retention, church commitment and a New Start participant - RodrÁguez's resume screams leadership as though it had been written in bold red letters, several agreed.
RodrÁguez, a Mexican American studies senior, has been vice president of Movimiento Estudiantil Chicano de Aztlan, a co-coordinator for the Chicano-Hispano poetry group, an ASUA senator and the community developer for ASUA - a newly developed position.
She has also coordinated city and nationwide events.
"To me, well-rounded is stuffing stockings for little kids, involvement in student government, reading to kids, volunteering - it takes community, family and dedication," RodrÁguez said.
"With the experiences that came to me, I think different than I did prior to these experiences," she said.
RodrÁguez, a Tucson native, is the youngest and only girl of four children and is a first generation college student.
RodrÁguez said her tendency to come off as an over-achiever is largely because she is genuinely compassionate towards others.
She said she is working in conjunction with the UA, the Tucson Unified School District and her office of tribal development to strengthen retention rates among American Indian students.
"Junior high students through TUSD were interested in putting together this conference. I got a call, and we put it together," RodrÁguez said.
RodrÁguez said she didn't have to help coordinate the conference, but taking the initiative in community involvement with youth members helps them to feel open and welcomed.
"It would have happened anyway, but they would have had to go through a lot of red tape," she said.
"But when you have someone designated for community development, it is less intimidating."
The Native American Youth Conference will take place late next month.
Jose Figueroa, advisor for Tribal Images Youth Council in the TUSD, said she led the group in organizing the meeting.
"She has been a very good asset to helping us out because she is willing to do anything possible to help people out" Figueroa said.
"She's got a wonderful attitude, very gung-ho, very energetic and her attitude toward helping kids and the community is really good," he said.
RodrÁguez said her favorite quote - "Everything that I did in my life, I caught hell for it," by Earl Warren, former chief justice of the U.S. Supreme Court - tells her life's story.
"My brother sent it to me in an e-mail and said this quote is perfect for you because some things I do people don't approve," she said.
Like Warren, she said she strives to make positive changes from within.
Armando Valenzuela, program coordinator for Chicano-Hispano Student Affairs, said he agrees that RodrÁguez takes hold of her ambitions and sets them to use, regardless to opposition.
"I think MarÁa is a good example of a role model for Chicano and Hispanic students because she is hard-working, dedicated to her work and she's willing to stand up for her rights and the rights of others," Valenzuela said.
He added that RodrÁguez is one of the few students who constantly volunteers at the center and is a liaison between the UA and the Chicano population in Tucson.
A nominee for the Freeman Medal, the Robie Medal and the Nugent Award - all awards for seniors - RodrÁguez said she hopes her diversity of interests and knowledge will serve her well in the job market after graduation.
Her colleagues aren't worried because they say she has the attitude and ambition.
"The thing that strikes me the most about MarÁa is when you are with her, she makes you feel like you are the center of the world," said Drnek.
"She's really into the person she's interacting with, and she makes you feel very comfortable about yourself - there can be nothing else going on as far as she's concerned."
La Monica Everett-Haynes can be reached at city@wildcat.arizona.edu.