Mariners, Reds have tentative Griffey trade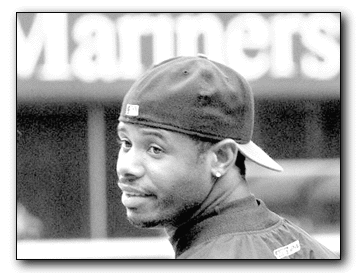 Associated Press
Arizona Daily Wildcat
Seattle Mariners' Ken Griffey Jr. is shown in this July 14, 1999 file photo. The Mariners and Cincinnati Reds have reportedly reached an agreement to trade the All-Star, but the deal could hinge on whether or not Griffey accepts a new contract.
Associated Press
NEW YORK-Ken Griffey Jr. is going to the Cincinnati Reds - if they can work out a new contract by this weekend.
Seattle and Cincinnati agreed last night to a tentative trade that would send the 10-time All-Star to his hometown Reds, a top baseball official told The Associated Press.
Cincinnati was given 72 hours to work out a contract extension with Griffey that would make the trade final.
''My understanding is there has been a window requested, and it has been granted,'' said Sandy Alderson, executive vice president of baseball operations in the commissioner's office. ''The 72-hour clock is running.''
Alderson would not say what players were involved in the proposed trade.
There was speculation that it might a three-way deal involving the Anaheim Angels and outfielder Jim Edmonds, but it wasn't clear if the deal presented to baseball last night included two teams or three.
''In a followup to comments Tuesday by Brian Goldberg, Griffey's agent, we have been instructed by the commissioner's office to make no comment about the Reds and their ability to speak with Griffey his agent,'' Mariners president Chuck Armstrong said.
Under baseball's rules, teams must first agree on the players involved in a trade, then ask the commissioner's office for the 72-hour window. During that time, the acquiring team can attempt to work out a new contract or an extension with the player.
Goldberg said earlier this week that his client would take less-than-market value to play for Cincinnati, where he grew up. Griffey, who is eligible for free agency after the season, rejected a $148 million, eight-year extension offered by the Mariners last year.
Seattle and Griffey wanted the matter resolved by the start of spring training.
Griffey, 30, has 398 career home runs in 11 seasons, along with a .299 average and 1,152 RBIs. Hank Aaron, baseball's career home-run leader with 755, thinks Griffey has the best chance to top his record.
Griffey, who will earn $8.25 million this season, the final year of an $34 million, four-year contract, told the Mariners in November that he wanted to be traded to a team closer to his home in Orlando, Fla.
Mariners general manager Pat Gillick held talks with the New York Mets the following month, but Griffey then said he would accept a trade only to Cincinnati.