Maryland upsets No. 3 Duke, ends Blue Devils' win streak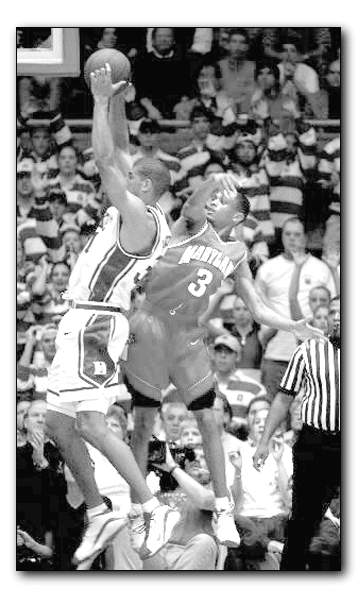 Wildcat File Photo
Arizona Daily Wildcat
Associated Press
DURHAM, N.C. -It was camcorder material in Maryland's locker room. By comparison, Duke's was deathly quiet following a 98-87 loss that ended several long winning streaks for the third-ranked Blue Devils.
The No. 23 Terrapins had lost 28 of their last 33 against Duke, but got 31 points from Juan Dixon and two key 3-pointers late by Terence Morris in the victory last night, snapping Duke's record 31-game Atlantic Coast Conference winning streak.
Morris savored the win by mugging for a team manager who was taking video in a happy Maryland locker room.
''Streaks come to an end, now we've got to start another one,'' Duke senior Chris Carrawell said. ''It was a great run and it's sad it ended on our home court, but that's how God had it in the plans.''
Duke (18-3, 9-1) also had the nation's longest winning streak snapped at 18 and lost in Cameron Indoor Stadium for the first time since Jan. 11, 1997, against Wake Forest - a span of 46 games.
''We definitely were silenced,'' Carrawell said. ''They outplayed us and they took the crowd out of it. They deserved to win.''
Dixon's point total matched a career high, while Lonny Baxter added 22 points and Morris had 20 as the Terrapins (17-6, 6-4) tied North Carolina for second place in the ACC.
''We just stayed with them, exchanged punch-for-punch,'' said Baxter, who added 10 rebounds and a career-high six assists in 29 minutes. ''Most teams come in here and are satisfied at the half, saying, 'We played good and expect to come out and win the game.' It doesn't happen like that here. You've got to stay focused.''
The game was tied 83-83 when Morris, who had struggled all night and allowed 28 points to Shane Battier on defense, hit a baseline 3-pointer with 3:27 left to give Maryland the lead for good. A minute later, he made another shot from beyond the arc and the upset was brewing.
''The coaches still told me to shoot,'' said Morris, who was 7-for-22 from the field and had missed three straight shortly before his two clutch 3-pointers.
''I knew my shot was kind of off in the first half, but they kept calling plays for me. Those last two 3-pointers were open so I had to take them.''
Dixon helped close it out with three fouls shots over the final 31 seconds as the Terrapins outscored Duke 15-4 down the stretch.
''It's amazing to play that well and it still go down to the wire,'' Maryland coach Gary Williams said. ''They deserve to be No. 3. I think we caught them at the right time. I seems like there was more and more talked about the streak and this was our time to get a chance.
''We really believed we could win the game walking on the court. That was the key.''
Neither team led by more than seven points until the final two minutes in arguably the best ACC game of the year as both teams shot 53 percent.
Duke made 13 of its first 17 shots, but unlike most of its wins during the Cameron streak, the Blue Devils couldn't knock out their opponent, turning the ball over 12 times in the opening 20 minutes.
The Terrapins trailed 33-26 before going on an 11-0 run behind six points from Baxter, who had 14 in a fast-paced first half in which both teams shot at least 50 percent.
And while Baxter was having his way inside against the Blue Devils, Danny Miller and Dixon were firing away from the outside, scoring 12 each as the Terrapins led 47-45 at halftime.
The last time Duke trailed at the half at home was by two against DePaul on Dec. 11. The Blue Devils won that game 84-83 in overtime.