'The Beach' opens to mixed reviews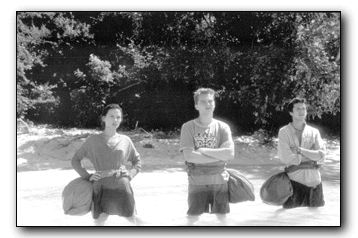 Arizona Daily Wildcat
Photo courtesy of Peter Mountain Virginie Ledoyen, Leonardo Dicaprio, and Guillaume Canet star in the much awaited movie, "The Beach." The film opens in theaters tonight.
If someone were to select the 10 best films to represent Generation X, "The Beach" would be one of them.
The film is a lavish, spellbinding tale of paradise lost, filled with enough drama and soul searching to entice any member of today's young America.
DiCaprio - in his first starring role since 1997's mega-success "Titanic" - plays Richard, an American traveler who represents the part of modern society obsessed with cell phones, video games and the Gap.
The overall story of the movie is rather simple - paradise turns to tragedy. But it has plenty of interesting themes and messages to appeal to just about anyone.
DiCaprio gives an outstanding performance, commanding the viewers' attention and erasing all doubts to his place as one of America's great actors. His performance, like the film, is both edgy and solid, yet appeals to a mainstream audience.
The rest of the cast makes a fine effort of keeping up with him. In particular, French star Virgine Ledoyen, who, in addition to playing DiCaprio's love interest, balances out the sex appeal of the film as she walks around the beach in skimpy bathing suits designed to entice Richard - and any heterosexual male viewer.
However, one soon forgets this minor set-back under the steady influence of director Danny Boyle's mesmerizing camera work, which perfectly captures the other-worldly feel of Thailand and the sheer force of the young actors themselves.
While the pacing often slips between exciting and slow, Boyle always fills the screen with something visually pleasing, whether it's the stars themselves or the lush scenery of Thailand.
Nevertheless, the film has its share of romance. After all, if this beach is truly going to be a paradise haven for Richard, he must somehow get the girl.
He does - as if there was any doubt - in a particularly mesmerizing scene that has Richard and Francoise embracing under water amid a school of glowing shrimp.
Boyle tosses in a few references to other films here, such as "Apocalypse Now." When Richard begins his own decent into darkness, he sets the film up for a much darker second half, contrasting the idealistic world the characters have discovered in the first half.
This dark edge is what keeps the film so interesting and, in the end, makes it so everlasting. Boyle is not afraid to display his vision of paradise, and it is a vision some will find disturbing.
Still, like Richard, those "searching for something different" should definitely check out "The Beach."