Bristol gets birthday wish with win agains Huskies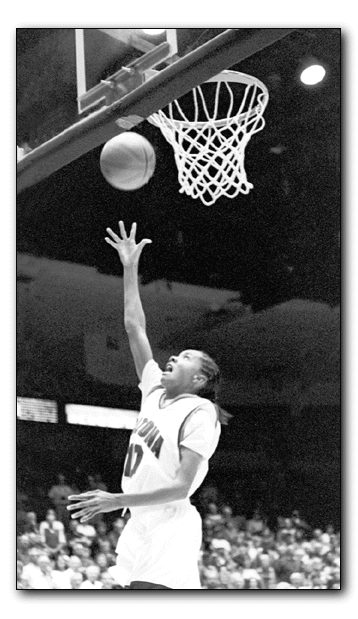 Arizona Daily Wildcat
Photo by: DAN KEMPNER
Junior guard Reshea Bristol goes up for a layup last night during the Wildcats' 96-81 victory against Washington. Bristol had 18 points, six rebounds and three steals in the victory, which improved Arizona's Pac-10 record to 8-2.
Yesterday was UA junior guard Reshea Bristol's 22nd birthday and to celebrate it, she led her team to their biggest offensive explosion so far this season.
Bristol scored 18 points and grabbed six rebounds to lead the No. 14 Wildcats past Washington 96-81 and into their best Pacific 10 Conference start in school history (8-2, 19-3 overall).
Tying a mark set Dec. 10 against Texas Southern, where they won 96-46, Arizona's offensive eruption was balanced throughout the box score.
Accompanying Bristol, senior forward Angela Lackey scored 17, senior forward Tatum Brown had 15, senior guard Lisa Griffith had 15 and sophomore forward Elizabeth Pickney poured in another 13.
To say that the Arizona offense was clicking would be an understatement. The Wildcats shot 55 percent from the field (34-for-61), including 63 percent (7-for-11) from three-point land.
"We were on tonight and it felt good," Bristol said. "And for my birthday, the team surprised me and said they wanted to win the game for me."
Leading 49-40 at halftime, the Wildcats blew open the game in the second half when they went on streaks, leading by upwards of 30 points.
"In the second half, about the first 15 minutes until I subbed everybody was the best half of basketball we played all year," Bonvicini said. "I thought we were excellent defensively, very, very unselfish on offense, going inside-outside, grabbing rebounds and taking care of the ball. It was very good team basketball."
Entering the game, the Wildcats' focus was on stopping Washington guards Megan Franza and Loree Payne, who are among the top three in conference scoring, most of which occurs from outside the three-point-arc.
On Jan. 15 in Seattle, Payne scored 27 points, but after making adjustments, Arizona's defense limited her to only 13 points 4-of-13 shooting.
"We knew that they have two very good players that lead the Pac-10 in scoring in Franza and Payne and we just wanted to key in on their shooting ability from the outside," Bristol said. "We had our posts help out a lot and communicate better as a team and that exploits their shooting ability."
Griffith added that because they are primarily a perimeter-based offense, putting a hand in their face and causing them to search for other options helped to confine their potentially fiery offense.
"We came out in the second half with a little more intensity, and a little smarter, and our posts were hedging out on the shooters, and then after that, it was over," she said. "We were causing them to drive more and they aren't drivers, so we tried to make them do what they didn't want to do."
Wildcat players and coaches said, following the game, that while standing in first place, they're excited about the prospects of becoming not only conference champions, but moving deep into the NCAA tournament.
"Every now and then, people have their off games and down times, but if we play together as a team, we can be contenders for the Final Four," Bristol said. "We are starting to see what it takes to be a good team, a great team ... It seems like we're getting better together."
The Wildcats next host Washington State tomorrow at 2 p.m., when they will try to move their winning streak to six games.
Though the Cougars sit at the bottom of the Pac-10 at 1-9, Bonvicini said records and statistics can be deceiving.
"Washington State is going to be a good challenge. They are very scrappy," Bonvicini said. "Actually, if you look at the stats, they are the team that has had the biggest lead on us during a game, if you can believe it. We'll be ready, though."