Rally against hate, homophobia draws 1,000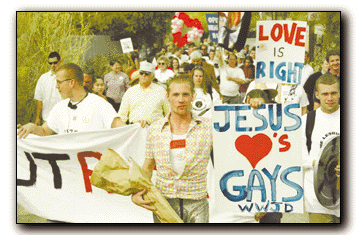 Sarah Brown
Arizona Daily Wildcat
Brian Stark fervently leads the march against homophobia yesterday on Fourth Avenue. The march began on North Fourth Avenue and East Second Street and continued onto the UA Mall for a rally later yesterday afternoon.
Amid chanting and honking horns, a little girl tottered along Fourth Avenue carrying a crayon-lettered sign stating, "God loves all her children."
The child was one of the 1,000 people Tucson Police estimated marched along the North Fourth Avenue business district yesterday in response to last Sunday's stabbing of a gay UA student.
The march, followed by a speak-out at the University of Arizona Mall, was orchestrated by UA assistant English professor David Robinson, the local chapter of the Lesbian Avengers gay rights organization and several other activists.
Men, women and children carried signs, flags and beat aluminum garbage can lids while chanting, "Hey hey, ho ho, homophobia's got to go," and "Arizona, proud and free, marching against bigotry."
The approximately two-mile march started at Catalina Park at North Fourth Avenue and East Second Street and wound through the surrounding streets, pausing at the Rainbow Planet Coffee House, 606 N. Fourth Ave. - the scene of the attack - to drop flowers on the sidewalk.
The peaceful demonstration was peppered with singing and honking horns of passing motorists, many of whom flashed thumbs-ups and peace signs. When the crowd reached UA's Main Gate, a cheer surged through the formation as it converged on the Mall for the speak-out portion of the afternoon.
The stabbing victim, a 20-year-old philosophy junior, took the podium before the start of the speak-out to share his thoughts on violence, fear and his drive to overcome them both.
"Hate affects all races, religions, genders and orientations," said the student, who requested to remain anonymous. "With each show of discrimination, this world hurts."
"With all my fear, with all my sadness, I do not become a victim - I become a man," he said. "I am a man with fear as his companion, but never as his master."
"Hate will not stop me," he added. "We shall not cower in the shadow of intolerance."
The student said he was still experiencing pain from the injury to his back muscles, which he said worsens every day. However, he said he was enduring.
"It's nothing I can't handle," he said.
The student said the support of the crowd both moves and strengthens him.
"It does make me want to cry, but I meant what I said when it is in their love that I grow stronger," he said.
Attendees of the speak-out could share their anti-gay experiences on the open mic as well as in a written log which would be passed along to state legislators in hopes of educating them on the experiences of gays.
Petitions also circulated to convince the Pima County Attorney's office to step up the charges against the attacker to attempted murder. Shortly after the stabbing incident, Tucson Police arrested Gary Grayson, 37, on charges of aggravated assault.
Dace Park, a Lesbian Avenger, said the march and speak-out were successes.
"We could not have asked for a better turn-out," she said.
Robinson said the day's events went "very, very well."
"(I am feeling) inspired, grief-stricken, excited - a whole gamut of things," he said.
Robinson predicted further activism would stem from the recent stabbing.
"Enough people will really want to do something about homophobia," said Robinson. "It's relatively easy to oppose an act as horrible as an act of attempted murder, (but) what needs to be done is for everyone - everyone - to take the initiative."
Robinson said being gay is not just "OK," but "wonderful."
"We're part of what makes the world beautiful," he said.