Lesbian Looks Film Series holds second screening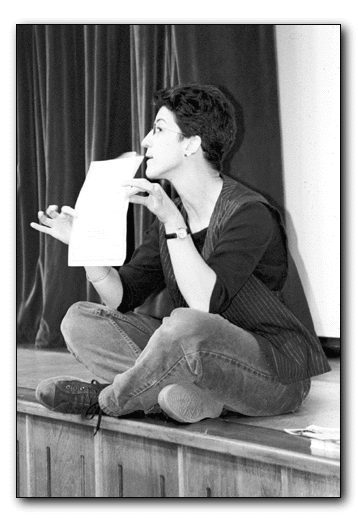 Amy Bohme
Arizona Daily Wildcat
Media arts associate professor, Beverly Seckinger, makes an announcement before the Lesbian Looks film series Saturday night. The series continues Feb. 19 with a free screening of four short films.
The Eighth Annual Lesbian Looks Film Series ran the second of three cinema installments on Saturday night with two documentaries about very different families.
Organizers said the series addresses the lack of gay and lesbian films in Tucson, while breaking down many of the stereotypes embodied in society.
"It's a popular event that brings in lots of people," said series co-founder Beverly Seckinger. "We try to show stuff that would not be shown in Tucson otherwise."
Seckinger, also a University of Arizona associate media arts professor, founded the Committee on Lesbian, Gay and Bisexual Studies in 1993 with several other faculty members, staff and students.
She noted the importance for heterosexuals to see gay and lesbian-themed films.
"Media images of gay people fall into very stereotypical lines - we are the funny next-door neighbors," she said. "The series gives people a chance to see the incredible variety within the lesbian world."
Saturday's showcased films centered upon this theme, bringing to light many of the lost messages shrouded under popular but stereotypical films.
In "Our House," director Meema Spadola interviewed children of gays and lesbians from five households around the United States. Saturday night's screening marked the premiere of the film that displayed diverse families from Arkansas, New York, New Jersey and Arizona.
"I wanted to make a documentary that showed not all families are a mom and a dad," Spadola said. "Ultimately these are families that deal with siblings, divorce and rebellion; they fight and have their own issues and problems like any family."
Phoenix-based director Sharri Weinberg, who has contributed to the series in the past, said that people outside the gay community will enjoy the engaging films.
"The way I see it is - I have a great interest and curiosity in other people's cultures and lives, so it seems only natural that others would have an interest in mine," she said.
The Lesbian Looks Film Series concludes on Saturday with four short experimental films, including the surrealistic "Kalin's Prayer." Based on a true story, this film takes a look inside the mind of a drug-addicted lesbian model.
It has been shown at 77 festivals in 19 countries and won seven first-place awards since its release in 1998.
Director DeSales noted the reason for the film's wide acceptance and praise.
"All women have the same underlying issues and needs," she said. "It does not matter who you go to bed with, my community is people who respect women."
In addition to the film series, the Committee on LGB Studies does research on lesbian, gay and bisexual issues. The committee will hold a symposium on the Future of Gay and Lesbian Studies on Feb. 25, and is planning a benefit auction/concert on Mar. 25 along with the Women's Studies Department.
"It's a really interesting time right now," said Seckinger. "The volume on this debate is turned way up, and things that 10 to 15 years ago people did not talk about publicly are now on television."