UA women blast WSU, lead Pac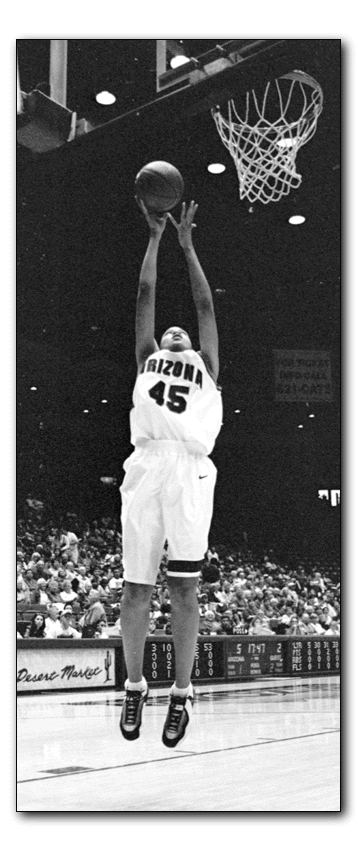 Aaron Farnsworth
Arizona Daily Wildcat
Sophomore forward Elizabeth Pickney puts up a shot during Saturday's 81-52 win against Washington State at McKale. Pickney scored the game's first seven points and finished with 21 for the Wildcats, which are tied for first place with Stanford in the Pac-10.
For the time being, at least, Arizona and Stanford stand atop both the men's and women's Pacific 10 Conference standings.
The UA women's basketball team finished off its sweep of the Washington schools with an 81-52 pounding of Washington State Saturday afternoon at McKale Center, improving to 20-3 overall, 9-2 in the Pac-10.
With UCLA losing to USC and Stanford barely getting by Oregon State on Saturday, the Wildcats, winners of six straight games, are tied for first with Stanford going into next weekend's games against the Los Angeles schools.
UA head coach Joan Bonvicini insists the road to the Pac-10 championship runs through UCLA, last year's champions. The Bruins have struggled recently, losing three of their last four games, opening the door for Arizona.
"I like (being on top of the standings) a whole lot better," UA head coach Joan Bonvicini said. "We've accomplished a lot of things here at Arizona, and one of our big goals when I took the job here was to win the Pac-10 title."
"We messed up in the first round of games this year, but we were fortunate to get those two games back."
The Wildcats were led by inspired play from sophomore forward Elizabeth Pickney, who scored the first seven points of the game en route to a 21-point performance. She also added seven rebounds.
"I really wanted to do good on the boards, that's my whole focus," Pickney said. "I don't want to let anybody down or myself down."
The rest of Arizona's scoring was spread evenly, as all 13 players saw time on Saturday. Senior guard Monika Crank was the team's next highest scorer with 10 points.
Washington State's scoring was also distributed evenly, but no Cougar had more than eight points.
UA senior forward Tatum Brown and junior guard Reshea Bristol each had a game-high eight rebounds against the Cougars, who struggled against Arizona's aggressive defense.
"Tonight we showed a lot of heart, team effort and a lot of consistency," Bristol said.
Aggressive team defense by Arizona led to 29 Cougar turnovers and a number of fast-break opportunities for the Wildcats.
"It's crucial against good athletes to execute, we can't just dribble through their traps because they are such good athletes," Washington State head coach Jenny Przekwas said. "We had a great deal of trouble with simple execution of our offense, which hurt us."