Twisted metal, monster machines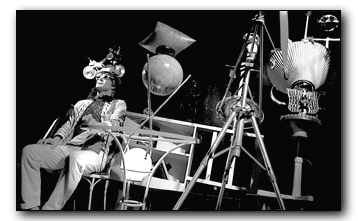 Arizona Daily Wildcat
Photo by: DANIEL KEMPNER
Matt Bevel sits amidst a setting of surreal mechanical props and machines of his own creation. These sculptures can currently be seen co-starring in Bevel's latest one man performance "Atomic Honey" at the Matt Bevel Institute on Feb. 18, 19 and 20.
Matt Bevel's one-man performances jolt audiences with surreal, delusional images, replacing rational and aesthetic expectations with bizarre imagination.
His current show, "Atomic Honey" - running on Feb. 18, 19 and 20 at the Matt Bevel Institute, 530 N. Stone Ave. - combines music, poetry and a cast of sculptural machines in a circus-like show that borrows from pop game show formats.
Bevel said his motivations for performance art originate from his objections to modern art forums.
"I never liked being in galleries. I never wanted anybody between me and the people appreciating it," he said. "I don't care what I make, it's, 'How do I get it in people's faces and somehow get it into their lives for the person to experience it?'"
Throughout the performance Bevel assumes several different characters, including "The New Non-Prophet" and "Walter Ego."
His accompanying cast of moving machines glorifies the ordinary and mundane junk of everyday life. He takes signs, symbols and everyday objects and arranges them into fancy contraptions.
"It's all junk, but not trash," Bevel said, clarifying "The New Neon Prophet's" disclaimer that "it's not about good flavor, it's all about bad taste."
The extreme machines appear familiar at first - bicycle wheels, televisions, keyboards - but appear out of the context that gives them meaning, making them disorienting.
"These machines start evolving, and things start to get arranged in all different ways," he said. "What you have is this little community, and it's almost like culture. I've almost created a mini, play version of culture because the machines all have meanings. They all have poems.
"That's what we do as people. We give an object a meaning, and then over time this gets rearranged," Bevel added.
The performance at times seems overwhelming due to the extreme number and scale of the props. Bevel invites people attending to arrive early and enjoy his stage of mechanical figures.
For audiences, understanding the theater's atmosphere is half of the show's effect.
"The first part of my show is just things going on and off, but these things are all just props for my one-man theater for which I probably have 20 hours of work," he said.
The show's intention is far from being mere entertainment.
The characters Bevel assumes and a pre-recorded narrator supply a social commentary on art and culture.
"I call what I do 'social artistry,' because to me, art is not about making pretty pictures - artists are philosophers," Bevel said.
During the show "Walter Ego," he says "art is the artificial heart to replace a heart that does not function."
Despite the many philosophical questions raised about art in the show, it is not intended for an art-educated audience.
"I always come doing my art for normal people, and not for art people," he said. "This is very different from academic stuff where there is a sort of 'in' thing, an 'elite' thing as they call it. My audience is anybody who really needs my stuff."
The exact message or meaning of the show is impossible to pinpoint. The success of the performance lies on Bevel's ability to undermine common perceptions.
"This is a time where nobody knows what we are looking at. I don't need to be the one to say it, but this is a time where we are making these astronomical changes in the way we look at the world," he said.