Wildcats 8-6 as first quarter of baseball season ends Sunday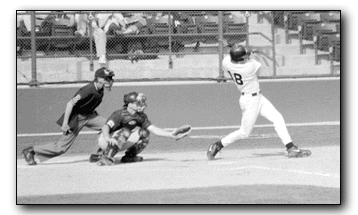 Matt Capowski
Arizona Daily Wildcat
Sophomore outfielder Shelley Duncan connects on a pitch during Sunday's victory against Nevada. Duncan leads the Wildcats with seven homeruns and 23 RBI a quarter of the way through the season.
The conclusion of Sunday afternoon's UA baseball game marked the official end of the first quarter of the season. The Wildcats, following 14 straight home games (not including the All-Pro Alumni game), are 8-6. So far this season, Arizona has taken two of three games from St. Mary's (Calif.), lost two of three to San Francisco, been swept in two games by Brigham Young, swept New Mexico in three games and lost two of three to Nevada.
Following Sunday's game, head coach Jerry Stitt reflected on the first quarter of the season.
"I thought we would be better than 8-6," he said. "We've lost some games that we should have won. That's the way baseball is."
The Wildcats are not lacking in offense, especially from sophomore right fielder Shelley Duncan. In the season's 14 games, Duncan leads the Wildcats in home runs (7) and RBI (23).
The power-hitting righty has three multi-homer games this season, hitting two on opening day and two each on Saturday and Sunday. In doing so last Saturday, Duncan became the first Wildcat to have more than four multi-homer games.
In just over one season, Duncan has 27 home runs, just nine shy of UA's career record, set by Kenny Corley, who hit 36 homers between 1995 and 1998. Kenny Corley is the older brother of a current Wildcat freshman pitcher Klent Corley.
Arizona's pinch-hitting has also been solid this year, going 13-for-30 (.433) with one home run and 10 RBI this year after hitting .191 during the 1999 season.
UA's most glaring problem seems to be relief pitching. So far this season, starters Brian Pemble, Matt Crawford and Ben Diggins have a 4.78 ERA in 14 starts, while Arizona relievers are carrying an earned run average of 8.47, nearly twice that of UA starters.
There was one bright spot in the team's 22-12 loss to Nevada on Saturday - the return of injury-plagued left-handed pitcher Rob Shabansky.
The 6-foot senior injured his medial collateral ligament in the second inning of last season's opening-day start.
It would be Shabansky's only start, as he had Tommy John elbow surgery and missed the entire 1999 season.
In Saturday's outing, Shabansky allowed three earned runs in 1 2/3 innings.
Earlier in the week, he pitched in a junior varsity game. Following the JV game, Stitt talked about Shabansky's comeback with respect.
"Rob's going to be big for us," Stitt said. "We're as happy as can be about Rob's return. He's one of the team's leaders."
According to Stitt, serious operations such as Shabansky's can really help a player.
"Surgery can do one of two things," he said. "It can bring you back and it can make you stronger."