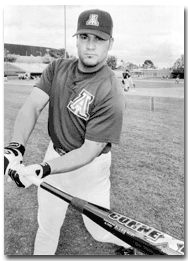 BEN DAVIDOFF
Senior first baseman Ernie Durazo takes practice swings Tuesday afternoon at Sancet Field. Durazo - who played at nearby Pima Community College for a year before coming to UA - is in the midst of an 18-game hitting streak.
By Brian Penso
Arizona Daily Wildcat
Durazo took long road to start at UA
Ernie Durazo doesn't take anything for granted anymore.
Arizona's baseball team is stacked with players who had numerous options for college, but Durazo is one UA player who had to struggle to have the opportunity to wear a Wildcat uniform.
Durazo, a senior first baseman and Tucson native, was highly recruited by UA out of Tucson High School but failed to obtain the minimum score on his Scholastic Aptitude Test.
The first baseman was denied admission, crushing his lifelong dream.
Rather than go somewhere else, Durazo put his dream aside and enrolled at Pima Community College.
Determined to graduate from Pima in one year in order to be eligible to suit up for the Wildcats, Durazo took 60 units, 48 of which had to be transferable to Arizona.
"I had trouble with my SAT's, but I didn't want that to stop me," Durazo said. "I didn't want to spend two years at Pima. You name a class and I took it."
Besides playing baseball for Pima in the spring of his freshman year, Durazo took 18 units each semester and took winter and summer session courses. Durazo successfully graduated in a year and half.
"This was a big accomplishment in my life," Durazo said. "What I did to get here has been one of the best things in my life. (UA head coach Jerry) Stitt thought I was crazy, but I proved everybody wrong."
Durazo excelled on the field as well.
He hit .420 with 12 home runs and was named to both All-Conference and All-Region teams. In his freshman year, the Aztecs finished one game from the Junior College World Series.
Durazo said that he dedicated every accomplishment from Pima to UA to his mother, Dora, who died when he was a freshman in high school.
"My mom never got to see me finish high school, let alone have the opportunity to go to college," Durazo said. "I am doing this for her because I know that this is what she would want me to do. I am making it happen for her."
At Arizona, Stitt moved Durazo to first base, a position he never played before. He opened the 1999 season as UA's starting first baseman.
"I wanted to be here so bad - when I couldn't, it brought me down," Durazo said. "But I knew I could play Division I baseball. When I got here, I felt proud because I knew I deserved to be at Arizona."
Durazo's work ethic has set the standard for other UA players, including sophomore second baseman Matt Abram.
"He plays the game the way it's suppose to be played," Abram said. "He hustles for everything, and he has great work ethic. He helps everyone here, and you can't say enough about the guy."
Durazo had a smooth transition to first base, but he did not have the same success at the plate.
In fact, Durazo credits former Wildcat teammate and current Los Angeles Dodgers farmhand Ben Diggins with helping him mature as a hitter.
Diggins, who pitched and played designated hitter at UA before being drafted in the summer, helped the senior develop a swagger in the batter's box.
"I was not always confident at the plate," Durazo said. "Diggins helped me gain a lot of confidence. He told me, 'you're a great hitter and you need to be in the batter's box knowing you are a great hitter.' Since then, I have had so much more confidence."
Durazo's increased confidence is apparent this season - he leads the Wildcats in hits (25), batting average (.397), slugging percentage (.651), RBIs (21), doubles (6) and triples (2).
He is in the midst of a career-high 18-game hitting streak.
"I think I'm having a good season, and that is due to my maturity level," Durazo said. "I'm trying to be more selective at the plate because you can't outsmart the game.
"I don't care about individual stats because all I care about is winning," he added. "The hitting streak is nice, but going hitless in a victory is more fulfilling. All I want to do is win."
Arizona assistant coach Victor Solis said Durazo has been vital to the Wildcats' success this season.
"Players look to him for leadership," Solis said. "And he has done exactly what we have asked of him and much more."
Once his Arizona career is over, Durazo said he will attempt to move on to the Major Leagues where his cousin, Erubiel, plays for the Arizona Diamondbacks.
"I want to play pro-ball, and I think that I am capable of playing at the next level," Durazo said. "I think staying at Arizona and graduating will help me a lot at the next level."
Durazo was eligible for the draft after last season, but the senior decided to stay for his senior season in order to become one of the few members in his family to graduate college.
"I am a very family-oriented person," Durazo said. "This will set a foundation in my family when I graduate.
"It's hard for me to look up during my games and not see my mom in the stands. She has been my fuel ever since she has passed away and I know that graduating is something that she would have wanted me to accomplish."