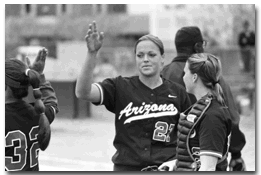 KEVIN KLAUS
UA junior pitcher Jennie Finch celebrates with her teammates following an inning Sunday. The undefeated UA softball team will play host to Western Michigan tonight at Hillenbrand Stadium.
Arizona Daily Wildcat
Arizona softball faces battle with another non-conference foe
UA head coach Mike Candrea has talked all season about the process it will take for his softball team to compete for a national championship come May.
Among other things, Candrea has stressed the importance of getting pumped up for games that lack the prestige of those Arizona will be in when Pacific 10 Conference play begins next month.
Candrea's Wildcats have a chance to prove they can do just that tonight, as Arizona (20-0) faces Western Michigan at 6 p.m. at Rita Hillenbrand Memorial Stadium. The game is the first of the season for the Broncos.
Western Michigan went 14-31 last season in the Mid-American Conference.
For Arizona, which also faces the Broncos tomorrow at 6 p.m., preparing for this game might be different than any other so far. On deck for Arizona this weekend is defending national champion Oklahoma.
The No. 3 Sooners eliminated the Wildcats from last year's College World Series en route to their first national title.
Despite this weekend's looming rematch, freshman Leneah Manuma said Arizona shouldn't have a problem focusing on the task at hand.
"We're just going to take care of the two Western Michigan games and then take care of everything else (this weekend)," said Manuma, who is tied for second on the team with eight home runs. "When Sunday comes, that's when we'll worry about Oklahoma."
In the pitching circle for Arizona tonight is senior Becky Lemke (7-0). In her last outing Friday against Connecticut, Lemke gave up three runs in five innings as Arizona cruised to an 11-3 victory.
Freshman Jenny Gladding, who will start tomorrow night's contest, said she doesn't know a lot about the Broncos, but will approach them as if they were UCLA or Oklahoma.
"I really have no idea about them, so I'll just have to go into it thinking that they're the best," she said.
Candrea said he is happy with his team's offensive production, but wants to continue improving before Arizona faces some of the nation's best pitchers once conference play begins March 30 at Oregon.
"The scary part is when you play so many five-inning games, you wonder what your mentality is going to be when you get behind or when you get in that close ballgame," said Candrea, referring to the plethora of mercy-rule-shortened games Arizona has won so far.
Besides Manuma, Arizona is statistically led by nearly every player in the lineup. Senior third baseman Toni Mascarenas leads the team in home runs (11), senior center fielder Lauren Bauer is tops in runs (34) and stolen bases (21), and freshman right fielder/catcher Mackenzie Vandergeest has the top batting average (.517).
"Right now, we're hitting on all cylinders," Mascarenas said.
Both games were recently added to the Wildcats' schedule after Western Michigan decided to come to Tucson early for this weekend's Hillenbrand Invitational. The Broncos are one of five teams Arizona faces at the tournament, which begins Friday.