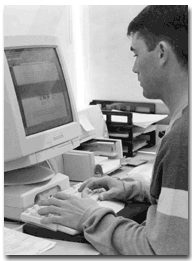 MICHELLE DURHAM
Part of the double life of Mike Seng is his job as a coordinator for entrepreneurship education in the Eller College of Business. Away from his desk, Seng rides bulls, which he has done since he was 16 years old.
By Erin Mahoney
Arizona Daily Wildcat
Coordinator for UA entrepreneurship program splits time between office and rodeo life
The pictures on Mike Seng's door are dueling.
On the left side, a photograph of a sturdy-looking bull proclaims the occupant's enthusiasm for rodeo life. On the right side, a Dilbert cartoon laments corporate minutiae.
For Seng, an entrepreneurship coordinator at the UA and a professional bullrider, they represent the two halves of his world.
His heart, however, is in the rodeo arena.
"It's the most challenging thing I've ever done," says Seng, who began riding bulls with a friend seven years ago. "There's no other sport that matches 2,000 pounds against a 150-pound person."
On Thursday, Seng, 23, spent several harrying seconds atop a large bull at the Tucson Rodeo.
The next day, he went back to work.
The soft-spoken, blue-eyed rodeoman spends 40 hours each week in his closet-sized office at the UA's Karl Eller Center, coordinating programs for entrepreneurship students. On the weekends, he dons spurs and a cowboy hat and travels to bullriding competitions in San Antonio, Laughlin, Nev., Fort Worth, Texas or other Western destinations.
Though he doesn't call himself a cowboy, Seng looks more John Wayne than Bill Gates. He's got the pickup truck - a white Dodge diesel - the dogs - border collie-Australian shepherd mixes - and even a slow, twangy drawl that sounds like Oklahoma - even though he's a Tucson native.
But he isn't all rodeo. He listens to rock music and talks about zip disks and laptops. He is, after all, a businessman - and an entrepreneur.
Some might say Seng, who spends his weekdays in an office and his weekends atop bucking bulls, leads a double life.
He says he's found a way to get it all together.
Last January, shortly before his graduation from the University of Arizona, Seng founded Underdog Productions, a rodeo promotion company that sponsors a professional bullriding competition each May.
"I see rodeo as a means for me to get into business," Seng says. "I'm taking what I love and getting to do that."
The company, which is planning its second event, combines Seng's business education with his rodeo interests. It, too, has a bright future, says Gary Williams, general manager of the Tucson Rodeo, who signed on to help host the event, dubbed the All-Star Challenge.
Williams, a former bullrider who says he and Seng are "kindred spirits," admires the younger man's ingenuity.
"It's very unusual for someone his age to be producing an event like that," Williams says. "When I was his age, I could barely operate a lemonade stand."
The goal, Seng says, is for Underdog Productions to provide him with a permanent, financially stable life in rodeo.
Seng, who lacks the sponsorships some professional riders have, spends up to $300 in entry fees for each competition and pays for his own travel expenses and equipment.
Although bullriders can earn up to $8,000 for an event, he must place highly in the competition to take home the prize money.
"It's kind of feast or famine," he says of his rodeo lifestyle. "When you're not riding well, you get poor really fast. It's all been coming out of the bank lately."
Bullriding has hurt more than just Seng's wallet. In a sport where being flung from a bucking bull is almost routine, he's broken his riding hand once and taken home more than a few bumps and bruises.
"I've been able to stay healthy so far," he says, and laughs. "I came back (to work) with a swollen face one time."
Swollen face or no, Seng retains near-celebrity status at his day job.
Bonnie Arriaga, an office manager at the Eller Center, says she and her co-workers treat Seng like one of their sons.
"We can hardly wait to come in Monday morning and ask him how he did," she said. "I'm always worried he'll get hurt."
Seng's suit-and-tie desk job is a far cry from rodeo life, however, which can lead to some good-natured ribbing from friends.
Williams remembers when Seng dropped by wearing dress slacks and a collared white shirt.
"Most people wouldn't expect a bullrider to be dressed like a waiter," Williams says, chuckling. "When he's not in the rodeo, I think he's probably a closet waiter."
Seng says he isn't embarrassed that he doesn't ride full time.
"They're just messing around," he says of Williams and his friends. "Until it (rodeo) starts paying more of the bills, I don't have a choice."
But being a businessman bullrider isn't quite so uncommon anymore, says Luke Kraut, a bullriding veteran and Seng's traveling partner.
"As technical as bullriding has got, you have to have a good business sense," says Kraut, 30, of Phoenix. "Mike's been able to focus not just on bullriding but on his event."
Seng says that despite the work involved in the All-Star Challenge - nearly a year's worth of planning - it's a satisfying way to unite his dueling interests.
"I get to work with all my friends, doing what I like," he says. "I come from a unique standpoint, not only being a fan but a contestant."
For now, Seng is focused on his riding, working even harder after what he calls a "disappointing," unranked performance during his hometown Tucson Rodeo. He'll continue to divide his week between his work at the Eller Center, his bullriding and his business.
Arriaga says she doesn't expect Seng to split up his time much longer.
"I keep thinking, 'I wonder how long he's going to be here,'" Arriaga says.
"It (bullriding) is more than a hobby to Mike. It's a passion."