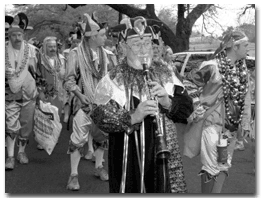 Associated Press
New Orleans' favorite son Pete Fountain belts out a tune as he leads his "Half-Fast Walking Club" through the streets of New Orleans yesterday morning,. Fountain is leading the club for the 40th time, kicking off the giant street party know as Mardi Gras.
By The Associated Press
NEW ORLEANS - Jazz clarinetist Pete Fountain and actor John Goodman led a morning march down St. Charles Avenue yesterday as thousands of tourists poured into New Orleans to celebrate the Big Easy's biggest party - Mardi Gras.
"There are two things I can get up for this early: going fishing and this," Fountain said at 7 a.m. while leading his "Half-Fast Marching Club" on its 40th annual Fat Tuesday trek.
Fountain was resplendent in a black and gold jester's outfit. Goodman, a part-time New Orleans resident, rode on a small float pulled by a truck.
Mardi Gras is the raucous climax of New Orleans' Carnival season, which begins each year on Jan. 6 and officially ends at 12:01 a.m. on Ash Wednesday. The tradition goes back more than a century.
More than a million tourists and locals were expected to jam the city's streets during the final four to five days. By mid-morning the narrow streets of the historic French Quarter were filling with revelers, many of them drinking heavily, some elaborately costumed.
The New Orleans celebration goes off largely trouble free. In Seattle and in Austin, Texas, this year a Mardi Gras parade was canceled and a curfew imposed after weekend rioters tossed bottles and smashed store windows.
"The police officers are letting everybody have a good time," Lance Smith, 33, of Las Vegas said Monday while sipping a beer on Bourbon Street.
Local community leaders served as Carnival royalty in yesterday's parades, which drew thousands.
But for many tourists, the real draw is the libidinous, alcohol-fueled atmosphere.
Crowds gathered under balconies, begging the occupants to toss down the season's traditional prize - strands of cheap plastic beads.
In a bawdy tradition, many women in the French Quarter flashed breasts in return for beads. Others simply took their tops off for good.
"I did lots of sassy things," said Sarah Cravilian, 21, a waitress from Green Bay, Wis. "I got lots of beads. I only showed my chest twice."
Such public displays create a dilemma for New Orleans police, who must decide when enough is enough. Last year, a crackdown on women flashing their breasts for beads drew criticism from revelers who said it was harmless fun.
This year, the department announced officers will make arrests only when nudity or lewdness are considered a threat to public safety.
"If you have a level head and behave yourself, you can go out and have a good time here and not get hassled," said Smith. "It's been great."