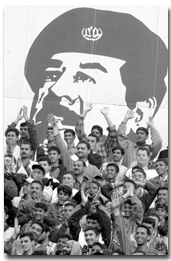 Associated Press
Iraqis cheer in front of a portrait of President Saddam Hussein as famous Egyptian singer Ihab Toufic performs at Baghdad stadium Monday. Toufic is part of a growing number of Egyptian artists who have recently come to Iraq to help alleviate the suffering that the Iraqi people face under foreign sanctions.
By The Associated Press
BRUSSELS, Belgium - Declaring that sanctions against Iraq are "in a state of disarray," Secretary of State Colin Powell is calling for changes that would permit export to Iraq of more consumer goods while maintaining curbs on assistance to President Saddam Hussein's weapons program.
Powell said he hoped revisions could be completed before Arab leaders hold a summit meeting in Amman, Jordan, in late March.
"I think it gives us a stronger position to go to nations that might be tempted to send in prohibited weapons or prohibited materials," Powell said of the positive U.S. response to Arab complaints about the plight of the Iraqi people after more than a decade of the U.N. strictures.
Even so-called dual-use items, those with possible military application, such as water pumps and refrigeration equipment, may be cleared, he said.
"I have every reason to believe we are able to keep the box as tightly closed as we have the last 10 years, without receiving on our shoulders all the baggage that goes with it," Powell said.
Meanwhile, Powell sent Assistant Secretary of State Edward Walker to Turkey, Lebanon, Oman and the United Arab Emirates for talks with government leaders there on revised sanctions on Iraq.
Turkey is a neighbor of Iraq, and Powell is trying to get front-line states to tighten leakage of illegal shipments to Baghdad even while the Bush administration goes about easing curbs on export of consumer goods.
Powell explained the shift in policy in separate meetings here with Greek Foreign Minister George Papandreou and Turkish Foreign Minister Ismail Cem.
Powell also thanked Turkey for its support in helping the United States and Britain patrol no-fly zones in Iraq. Turkey condemned the Feb. 16 bombing of Iraq by British and U.S. planes, but U.S. officials said Cem did not repeat the complaint to Powell.
Flying to Brussels Monday night from Syria, the last stop on a three-day swing through the Middle East and the Persian Gulf, Powell also announced he had concluded a "solid agreement" with Syrian President Bashar Assad on a suspicious pipeline from Iraq's oilfields.
The pipeline problem has festered for months. Syria has resisted U.S. inquiries on reports that it was taking in Iraqi oil, selling its own and sharing the revenue with Baghdad in violation of U.N. sanctions.
Powell said Assad had promised he would submit to the U.N. sanctions committee both operations of the pipeline, which runs through Syria to the Mediterranean coast, and its revenues. Powell said President Bush told him he was pleased with the commitment.
Assad "said to me, in response to my query, that it is their plan to bring that pipeline, and what is going through the pipeline, and the revenues generated in that pipeline, to be under the same kind of controls as other elements of the sanctions regime," Powell said.
Since 1996, Iraq has been allowed to sell its oil abroad only if the revenue were used for food, medicine and other humanitarian purposes. U.S. officials insist only about 20 percent of the revenue has been used that way.
In the meantime, Arabs have complained bitterly that the Iraqi people were bearing the brunt of the sanctions, which were kept in place after the 1991 Persian Gulf War to try to force Saddam to keep his promise to abandon dangerous weapons programs.
Powell said he was convinced in talks with Arab leaders in Egypt, Jordan, Kuwait, Saudi Arabia and Syria that the sanctions regime could be modified for consumer and even some dual-use goods. He admitted to risk in the second category, but said such items as water pumps are vital to poor villages but are banned under the sanctions.
Powell also stressed that modifications in the sanctions must involve tightening of questionable exports to Iraq from front-line states, neighbors like Jordan and Syria.
"If you go forward, you really have to do something about the front-line states to stop things that might not be under U.N. controls," Powell said.
He said he planned to take soundings from the NATO foreign ministers and to consult further with Arab leaders.
On another front, Powell said he had discussed with Assad prospects for parallel negotiations with Israel while the Palestinians were negotiating with Israel, as well.
The Israel-Syria talks broke down 13 months ago, while peace talks between Israel and the Palestinians are also in suspension with almost no prospect they will be resumed soon.
Powell said he had not talked to Israeli Prime Minister-elect Ariel Sharon about reopening talks with Syria when he saw him Sunday in Jerusalem.
"If we can get the situation stabilized, why not both sets going again?" Powell said. "Of course, this is for the parties to decide, not for me, but it was a suggestion I made."