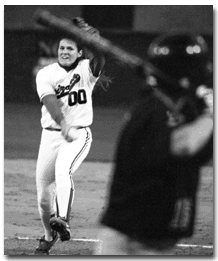 ERIC M. JUKELEVICS
Senior Becky Lemke delivers a pitch during the Arizona softball team's 10-0 victory last night against Western Michigan at Hillenbrand Stadium. Lemke upped her record to 8-0 as the second-ranked Wildcats continued their roll in non-conference games by beating the Broncos.
Arizona Daily Wildcat
No. 2 Wildcats defeat W. Michigan 10-0, face Broncos again tonight at 6pm
Another matchup against an unranked opponent resulted in an easy victory last night for the Arizona softball team.
Pitcher Becky Lemke allowed just one runner to reach base and senior Lauren Bauer again provided a spark from the leadoff spot as the No. 2 Wildcats (21-0) cruised to a 10-0 victory against the Western Michigan Broncos.
Lemke (8-0) yielded just one hit - a bloop single to right by Erin Malloch that landed just in front of a diving Mackenzie Vandergeest- and struck out eight hitters in the mercy-rule shortened game at Rita Hillenbrand Memorial Stadium.
The senior was able to keep the Broncos' hitters off-balance and get ahead in the count for most of the night.
"We just wanted to go at them until they proved something to us," said Lemke, who lowered her ERA to 0.91 for the season.
Bauer, meanwhile, continued her outstanding season at the top of Arizona's batting order.
The center fielder went 3-for-3 with two runs scored and increased her team-high stolen base total to 24 with three more swipes. She nearly had a fourth stolen base, but was called out for leaving first base early in the fourth inning.
Since moving back to her natural position in the lead-off spot this season, Bauer leads the team in hitting (.528) and runs scored (36).
"I'm so much more comfortable in the leadoff spot," said Bauer, who hit in the clean-up position for much of her sophomore and junior seasons. "I never feel that much pressure because our lineup is so solid."
The Wildcats opened the game by scoring a run in the first inning. After Bauer opened with a single and stole second and third, senior Toni Mascarenas hit a sacrifice fly down the right-field foul line to score Bauer.
In the second inning, Arizona tacked on four more runs. Senior Allison Andrade and sophomore Lisha Ribellia hit consecutive doubles to left-center field. The RBI was Ribellia's first of the season.
After Bauer singled again and stole second, senior Nicole Giordano tripled off the top of the left-center field wall to score Ribellia and Bauer. Giordano scored on a groundout by Mascarenas.
With her team up 5-0, Lemke cruised for the rest of the game, allowing just one hit, the fourth-inning single that was just out of Vandergeest's reach.
"She made a good attempt at it," Candrea said of his right fielder.
In the bottom of the fourth inning, the Wildcats scored their final five runs to invoke the NCAA's mercy rule.
With two outs, senior catcher Lindsey Collins doubled home Mascarenas and freshman Leneah Manuma. After junior Jennie Finch reached on a fielding error by Broncos' first baseman Allison Honaman, Vandergeest delivered a three-run homer that just stayed inside the left-field foul pole.
Lemke finished off the Broncos in the top of the fifth inning by striking out the side.
Arizona takes on Western Michigan again tonight at 6 at Hillenbrand Stadium. Freshman Jenny Gladding (6-0, 0.21 ERA) will get the start for the Wildcats.