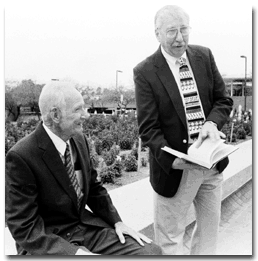 MICHELLE DURHAM
Donald Carson, retired head of the journalism department (left), and Jim Johnson, a University of Arizona journalism professor, point out a mistake in the book they co-authored, "Mo: The Life and Times of Morris K. Udall," at University Medical Center on Saturday afternoon. The book, published by the UA Press, details the life of former Arizona Democratic Congressman Morris Udall.
By Shana Heiser
Arizona Daily Wildcat
Journalists Johnson, Carson delve into detail of dynamic politician's life
Morris "Mo" K. Udall's memory, his sense of humor and his influence as an environmentalist will not fade quickly from the hearts of Arizonans. His legend now lives on with the recent release of his biography, "Mo: The Life and Times of Morris K. Udall."
Two journalists - Jim Johnson, University of Arizona journalism professor, and Donald Carson, former UA journalism department head and professor emeritus - interviewed 110 of Udall's family members and friends to paint an intimate portrait of the dedicated politician's life.
Johnson and Carson began work on the biography before Udall passed away Dec. 12, 1998.
Udall's bid for the Democratic presidential nomination in 1976 put him in the national spotlight, but this book will help further cement his historical contributions, Johnson said.
"Most of the people who voted for him (in 1976) are still around," Carson said. "Without this book, he's more likely to be forgotten."
When he called a local bookstore to inquire about other book titles containing Udall's name, Carson said the young lady on the phone had to ask how to spell Udall.
"It was a real shock to me," he said. "(Udall) was one of the top two or three environmentalists in the 20th century."
When Johnson first approached Carson with the proposal to write the biography, Johnson encountered some reluctance.
Carson, newly retired, was not quite ready to commit to anything as major as a book. Even so, Johnson was able to convince Carson the book was a worthy investment.
"I talked him into it," Johnson said.
After expressing mediocre enthusiasm at the project's outset in November 1997, interviews with Udall's family - including brother Stewart Udall, retired Secretary of the Interior under both the Kennedy and Johnson administrations - initiated what Carson said would become his new obsession.
The duo picked through 770 boxes of papers and information about Udall before they wrote the book, organizing the information chronologically and topically.
"It's almost like a fishing trip - sometimes you find it, sometimes you don't," Johnson said. "We could have spent 15 to 20 years writing."
The two authors decided to frequently collaborate and edit each other's work - or as they both said, "Rip it to shreds."
"I'm not sure I could have done this book alone," Carson said. "I would have been working on it forever."
Johnson said he wrote most of the chapters about Udall's family, while Carson dealt more with historical focuses.
"I think of every word in that book as Jim's and every word as mine because we edit each other so much," Carson said.
Being sensitive to Udall's memory while describing his family and workaholic tendencies was a challenge for Johnson, he said.
"Writing about (Udall's) family was the most difficult - asking about marriages, (because) his second wife committed suicide, and he married again," Johnson said.
As journalists, Johnson and Carson decided to tell the story of a man instead of writing the biography from an entirely historical perspective, Johnson said.
"You don't know what you're going to put in until you know what you're going to leave out," Johnson said. He added that both he and Carson used our training as journalists to decide what would be most interesting to publish.
After cutting 15,000 words out of the biography, Johnson and Carson published a 115,000-word book. Johnson described it as though he was "getting rid of his first born," because so much of the material about Udall would not fit.
"Can you ever capture a person in one book?" Johnson said.