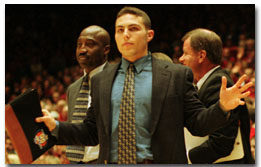 AARON FARNSWORTH
UA undergraduate assistant coach Josh Pastner yells out instructions last Saturday night against Oregon in McKale Center. Pastner, who played at UA prior to becoming a coach this season, may be forced to leave after the season when his one-year stint is up.
Arizona Daily Wildcat
Pastner may be forced to leave program after season
Just like he has been doing for the past five years, Josh Pastner spent this season clutching a clipboard and patting players on the butt.
Only this year, he was doing it while donning a dark suit and with his hair combed, a far cry from the shooting shirt he used to sport during his playing days from 1996-2000.
"This summer, I went home to Houston and my mom and I went shopping to get me a new wardrobe," Pastner said. "I couldn't come to games in gym shorts and a Polo shirt or else Coach O would look down the bench and think I'm nuts. The Rick Pitinos and John Caliparis look like the million dollar guys, so maybe some of that will rub off of me."
Dressed for success, year one of the Josh Pastner coaching experience is nearly complete.
What many in McKale Center did not realize last Saturday when the Wildcats were honoring their seniors is that Arizona fans may have gotten their final glimpse at Pastner as a Wildcat.
Serving as an "undergraduate assistant coach" this season, Pastner's position has an NCAA-sanctioned one-year shelf life, meaning that if none of head coach Lute Olson's assistants take coaching jobs elsewhere, Pastner will be sent packing.
"The assistants we have here are great and I think that they will probably have their chances to move on after this season," Pastner said. "I would love to get a chance to stick around in Tucson, but my entire future hinges upon what sort of changes happen around the country in the postseason."
UA assistant Jay John is rumored to be a candidate for the Cal Poly- San Luis Obispo head coaching job and Rodney Tention is said to be a suitor for the Portland head spot, which would allow Olson to keep Pastner. However, the numerous variables leave his future in limbo.
"I realize that I could be packing my bags for just about anywhere when this season is over," Pastner said.. "I have crisp resumes ready to be faxed at any moment, but my dream move would be to the office next door in McKale."
Pastner, the eternal optimist and self promoter, has already sent applications to the recently-vacated head coaching positions at Louisville and UNLV.
When Pastner came to Arizona, he realized that he wouldn't be competing for a starting position, but rather viewed his roster spot as a launching point for his coaching career. And with the four years senior forward Gene Edgerson spent with Pastner as a teammate, he doesn't see much of a change in his former roommate.
"Josh is wearing a suit and he is doing more talking now, but as far as differences, that's about it," said Edgerson, who roomed with Pastner for three consecutive years. "If there isn't a spot here for Josh, you have got to be crazy not to hire him. He knows the game, he's a very personable guy, a great recruiter. He has all the qualities you would want in a basketball coach."
Sophomore point guard Jason Gardner agreed.
"He still brings so much motivation and confidence to this team," he said. "Even though he has a different role, Josh has been a coach ever since he stepped foot on this campus five years ago."
While his on-court antics remain the same, Olson has relegated more official coaching duties to Pastner this season.
Among his responsibilities are underclassmen high school recruiting, individual player workouts and breaking down game film for upcoming contests. Olson even gave Pastner the lead scouting assignments for Washington State, Oregon State and Marathon Oil this season.
Leave it to Pastner to point out that Arizona is 3-0 in games he's scouted.
"He's done a really good job this year," Olson said. "I've tried to push him a little bit to be more vocal during the practice times. The thing that is difficult for a guy that goes from player to a coach at the same school is that your buddies are the guys that you're having to get on sometimes."
Not being the overly vocal, Bobby Knight-type coach is what appeals to sophomore forward Luke Walton, who regards Pastner as his personal confidant.
"You can call him at night and see what's going on and I know that the players feel a lot more comfortable asking him for advice," Walton said.
"Everyone knows the boisterous Josh Pastner that you see on TV and at the games, but one of his selling points that not many people realize is that players feel really comfortable with him."
Olson said at season's end, he expects his phone to be ringing with coaches and athletic directors interested in snatching up the coaching prodigy.
"He'll be a real plus to any program that he's with," he said.
Pastner, 23, said that he would rather stay at Arizona - where winning has become a tradition - than move to a lower-rung school where his team would be an underdogs.
"I have been spoiled being a part of one of the top five programs in the country and would like to have a shot at staying at an elite level school, but basketball coaching is a difficult field to break in to," he said. "I just want to keep moving up the ladder and if it's here, that would be awesome.
"I have loyalty to Arizona, but if the opportunity arises where I could move on somewhere else, that's where my career paths would have to take their course."