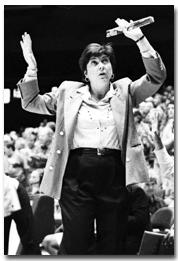 KEVIN KLAUS
UA head coach Joan Bonvicini roams the sidelines in a Feb. 3 game against Oregon State in McKale center. Bonvicini said the women's basketball team must defeat Stanford tonight and California on Saturday to make the NCAA Tournament. Seeds will be announced Sunday.
By Kamy Shaygan
Arizona Daily Wildcat
The UA women's basketball team is in a must-win situation.
The unranked Wildcats (18-10 overall, 8-8 Pacific 10 Conference), losers of three straight games, need to knock off Pac-10 opponent Stanford tonight and California Saturday in order to have any chance of making the NCAA Tournament for the fifth consecutive season.
Tonight's game against the Cardinal starts at 7:00 in McKale Center.
"Obviously, it's a big game for both teams," UA head coach Joan Bonvicini said. "I think for us to make the tournament, we need to win both games. I think if we win both games, we're in.
"I think the Pac-10 has a very good reputation. We just need to get back in again and win."
Wildcat freshman forward Veranda James agrees. Though the Wildcats have lost seven straight conference road games, Arizona's reputation in a strong basketball conference could salvage its chances Sunday when the tournament's teams are announced.
"I think this is a key game for us," James said. "It's very important. We need a win obviously. We are kind of borderline in getting into the tournament."
James isn't the only freshman expected to get substantial playing time tonight. Sophomore guard Aimee Grzyb is expected to start as well in place of sophomore forward Krista Warren, who tore her anterior cruciate ligament Thursday night against Oregon State and will be sidelined for the rest of the season.
"Like everyone knows, we need to win these next two games," Grzyb said. "We need to take care of the ball and win this game because if we don't win, we're most likely not going to be in the tournament."
Bonvicini said that while the Wildcats are a better team with Warren, they will have to endure the rest of the season without the sophomore.
"We miss Krista," Bonvicini said. "She does so many of the little things. She will have surgery in a couple of weeks."
Warren started 27 of the this season's 28 games, averaging 29.0 minutes, 9.3 points, along with 5.4 rebounds per game.
The Wildcats, who started the season on a tear, have been slowed since junior guard Tysell Bozeman was kicked off the team Feb. 5 for a violation of team policies.
Prior to the termination of the junior, the Wildcats had an overall record of 16-5. Since her departure, Arizona has gone 2-5.
Despite the team's struggles, James said that Bozeman's departure is not the reason the Wildcats have been unable to win games on the road.
"I think that it's just the team as a whole," James said. "The team chemistry - on the road - it's just been kind of off, and we haven't been clicking."
Bonvicini said that Bozeman's termination along with James' health problems have created obstacles for the team to overcome.
"I think it's a combination," Bonvicini said. "I think that we have had some distractions this year. Initially with Veranda having some concussions and missing a lot of games and then having to suspend Tysell.
"Obviously (it) has affected the team. I'm disappointed it had to come to that (with Bozeman). My responsibility is (to) do what's best for the team and the program. It's a responsibly both ways. When someone comes into the program, they have a responsibility for the team. I had to take someone out because they were not fulfilling the responsibility on their end."
In their last meeting against the Cardinal, the Wildcats came back from a six-point deficit, knocking off Stanford 68-65 in Palo Alto, Calif.
James said she expects to have a good game against the Cardinal.
"I feel like my intensity has stepped up a little bit," she said. "I'm a bit more aggressive. Things are starting to come around for me."