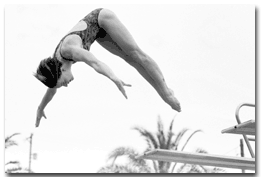 KEVIN KLAUS
Freshman diver Claire Febvay practices earlier this season at Hillenbrand Aquatic Center. The UA divers compete in the Zone Championships today in Federal Way, Wash.
Arizona Daily Wildcat
Wildcats try to make NCAA cuts; women's swim prepares for championship
The UA women's swimming and diving team was informed Tuesday that the Pacific 10 Conference title the team thought it won had been taken away due to an adding error.
Today, Wildcat divers need to pick up the pieces in a big way when the team competes in the 2001 Division I Zone Diving Championships held at King County Aquatic Center in Federal Way, Wash.
Taking position on the one-meter, three-meter and platform events will be Stanford, UCLA, California, Southern California, Washington, Washington State, Arizona State, Oregon State, Brigham Young University and the University of Hawaii.
The event - which marks the only opportunity for the divers to make NCAA qualification cuts - adds a vast amount of pressure to the meet's environment.
"The primary focus of this competition is to get as many athletes to the NCAAs," head diving coach Michele Mitchell-Rocha said. "This is the wackiest meet of the year. It is very pressure packed - either it works or it doesn't."
Despite the pressure, UA divers say they're prepared.
"Of course, we want to get some people to NCAAs, but other than that, we are focusing on people performing at their best," senior Lindsay Berryman said. "It's the last meet of the year, and it's a really big one. There's a lot of diving in two days, but we gear up for this meet."
Every diver's ultimate goal is to qualify for the NCAA Championships.
"We're sort of like the wild card within the swimming meet," Mitchell-Rocha said. "This is do or die in wrapping up the season in terms of what we've been aiming for - NCAAs."
Beginning March 15, Arizona women's swimming - as well as those divers who qualify - will travel to Long Island, N.Y., in hopes of topping its second-place finish set at the 2000 NCAA Championships.
Olympian Beth Botsford will try to defend her title in the 200-meter backstroke. The UA sophomore captured a first-place win, recording a time of 2:06.70.
If Arizona hopes to contend for a championship - the first in Wildcat history - it needs to be strong in numbers, head coach Frank Busch said.
"There is no question in my mind that numbers are a key issue here," Busch said. "They just give you extra chances. The more people we get to NCAA's, the better our chances are."
Until then, the Wildcats are confident in their ability to contend.
"Our girls know how to do one thing when it comes to competition, and that is they know how to compete," Busch said. "We are all very determined and excited to see what we can do."