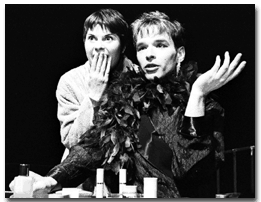 BRYAN TROLL
Theater production senior Traci Hartley (Harper Pitt) discusses makeup techniques with musical theater senior Jay Cotner (Prior Walter) in the UA production of "Angels in America." The play opens tonight at Marroney Theater.
Arizona Daily Wildcat
Homosexuality, AIDS, politics central to Pulitzer-winner play, "Angels in America"
UA playgoers are about to find out whether the '80s were really all that great.
More than just an entertaining play, "Angels in America: Millennium Approaches" is an exploration of America at the height of the Reagan administration. Times were changing dramatically with the advent of AIDS, increased visibility for gays and lesbians and an era of rampant, capitalist greed.
Tickets are almost sold out for tonight's UA debut performance of playwright Tony Kushner's Pulitzer prize-winning masterpiece.
"Things - marriages, bodies and society - were breaking apart," said Brian Russo, a theater graduate student. "These themes are very central to the play."
He added that the role of labels in society are important to the play.
"The label 'homosexual' is very potent to the characters in this play," he said.
"Millennium Approaches" is a prequel to Kushner's "Perestroika," which also won a Pulitzer. Where "Millennium Approaches" is about the deconstruction of society, "Perestroika" focuses on putting it back together again.
Kelly Molloy, an acting and directing senior, emphasized the psychology of the dramatic work.
"This play is about examining and breaking down preconceived notions," she said. "People often forget the harsh realities of the '80s. We think of bad pop music. But this (play) is about people's fears about what they do not understand, and how they react to it (the fear)."
The 3 1/2-long drama includes 24 roles played by only eight actors.
"Nothing in this play is an accident," Molloy said.
"(Kushner) is trying to say (by double-, triple- and sometimes quadruple-casting) that identities people have are not fixed. If history changes, then human beings can change, too," Russo added.
Russo plays Roy Cohn, a former U.S. senator who died of AIDS, and the ghostly ancestor of Prior, a character dying of AIDS.
"It's a dream role, Roy's character," Russo said. "He's bigger than life - a character that has no boundaries. He is a quintessential villain."
Cohn was Joe McCarthy's assistant in the '50s and was instrumental in the execution of the Rosenbergs, a married couple alleged to be Communist spies. In the '80s, Cohn was diagnosed with AIDS but continually denied he had it.
Molloy plays four characters, including a rabbi, a male doctor, the ghost of Ethel Rosenberg, and Hannah Pitt, a mother struggling with her son's homosexuality (despite his marriage to a woman).
"It's very strange because for the first act of the play, I play a man," she said.
The play's plot centers around two couples - one gay and one straight. Each is struggling to gain composure in a chaotic world of politics juxtaposed with the revelation of a new, incurable disease.
The play also explores the role of religion in America, especially those of Judaism and the Mormon faith. Hannah Pitt, for instance, is a devout Mormon woman from Salt Lake City who is "torn between right and wrong" when she learns of her son's gay tendencies, Molloy said.
Controversially, the play features an on-stage gay-sex scene.
"It's not a rape, but it is a fairly emotionally violent scene," Molloy said. "It takes place between two strangers."
"Angels in America," due to its unsettling nature, might not be suitable for every viewer.
"It knocks you back in your seat 100 different ways," Russo said. "Watching it is like watching a whole world cracking open."
This play, Molloy said, is for those who want to reflect on their life and their role in society.
"If you want a harmless, fluffy musical, don't go see this," she said.
The play, however, is not without its humorous scenes.
"I don't want people to think this is 3 1/2 hours of depression," Russo said. "This play works on levels of language, theatricality, politics, history and, probably most importantly, the human condition."