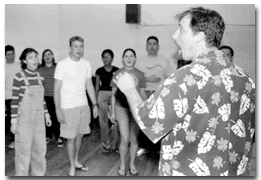 JONATHAN V. PORCELLI
Members of the vocal jazz group nUAnce, led by Jim Taylor, associate director of jazz studies, rehearse yesterday morning. The group will perform with two other UA performance ensembles in a concert tonight to close UA Jazz Week.
By Lisa Lucas
Arizona Daily Wildcat
Three UA music groups - nUAnce, Vocal Ease and UA Vocal Jazz Ensemble - comprised solely of UA undergraduate vocalists and instrumentalists - perform tonight at Crowder Hall, bringing UA Jazz Week to a close.
nUAnce, the most recent addition to the array of ensembles in the UA music department, includes nine male and female vocalists. The group performs both a cappella and in accordance with instruments.
Jim Taylor, associate director of jazz studies, said nUAnce rehearses 10 to 12 hours per week, describing the rehearsal atmosphere as being quite chaotic.
"(We rehearse) like mad people," he said. "Like mad, mad, crazy people."
Music junior and nUAnce member Ayala Solis has worked under the direction of Taylor for the past two years. She became involved with the group after Taylor introduced her to it himself.
"I decided to be a part of nUAnce as opposed to the UA Vocal Jazz Ensemble because I liked the idea of a smaller group," she said. "It was also appealing because Jim would be one of the singers as well as the director of the group, and I knew it would be really challenging and fun to be singing with him."
Solis said involvement with nUAnce has already provided her with rewards.
"We have had amazing opportunities singing in the surrounding community," she said. "It's a great outreach for the School of Music and has helped me make connections outside the UA."
Describing the selections in tonight's performance, Solis said some of the songs should be familiar to the audience.
"These will undoubtedly be performed differently than what (audience members are) used to, but it's always fun to perform crowd-pleasers," she said.
In addition to the performance by nUAnce will be Vocal Ease, a six-voice women's chorus. The group will showcase its a cappella sound through the use of several swing and gospel selections.
Also, the UA Vocal Jazz Ensemble will perform a variety of selections ranging from swing and blues to fusion.
"(Fusion is) jazz that takes electric instruments and the electric sound - rock or grunge sound - and puts that with vocalists," Taylor said. "(It is) adventurous and contemporary."
The group was formed in August by Taylor who wished to showcase what professional students can do.
Taylor said tonight's show will be performed as a contribution to not only UA Jazz Week but also to his students and audience.
"(My) primary reason (for tonight's performance) is the education of my singers and (to) entertain my audience," he said.
The show includes a wide range of music so the audience should not get "locked" into a specific style, he said. The performance is meant to broaden the audience's understanding of the meaning of jazz, Solis added.
"Since all the groups are different in size and in the make-up of the members, they will all shed a different light on the broad category of jazz music," she said. "Jazz is often thought of as a fairly specific type of music, but in actuality, it is a very general term. There will be lots of improvisation, which is characteristic of jazz."
Solis emphasized the importance of student and community involvement in the programs being held this week.
"The UA really is rich with opportunity," she said. "I hope people take advantage of everything that Jazz Week offers."