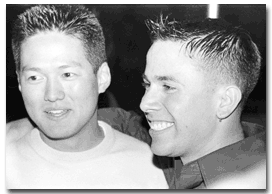 BEN DAVIDOFF
President elect Ray Quintero and vice president elect Sam Chang celebrate after hearing the results of the ASUA elections last night at Gentle Ben's. Quintero and Chang, who were running mates in their campaigns, each received 58 percent of the vote.
Arizona Daily Wildcat
Voter turnout increases 28 percent from last year
Ray Quintero and Sam Chang's wish to serve in the ASUA cabinet together was fulfilled last night when their elections were announced at Gentle Ben's.
With former Associated Students presidents Gilbert Davidson and Cisco Aguilar in the audience, current President Ben Graff announced Quintero's 58 percent victory.
"This is amazing - I am so excited," Quintero said, as his sister handed him a cell phone with their mother on the other end to congratulate him.
Chang, who also garnered 58 percent of the votes for the executive vice president race, said running his campaign together with Quintero proved to be successful.
"I just can't believe the numbers - I am at a loss of words," he said.
The two had a nine-vote difference.
A total of 2,600 ballots were cast online during the two-day election as compared to last year's 2,032 votes.
"I'm very pleased with the online voting," said Graff. "It was a 28 percent increase."
Kristel Miller and Matt Bailey each received 36 percent of the votes for president and executive vice president, respectfully.
"I'm happy that I ran an honest and clean campaign," Miller said. "I would encourage the new officials to be more visible out there and to look at the professor-to-TA ratio."
Tricia Williams, the lone candidate for administrative vice president after Brandon D'Angelo was disqualified yesterday, captured 58 percent of the votes.
"I would have won anyway," said a teary-eyed Williams, referring to D'Angelo's campaign termination.
D'Angelo's name was removed from the ballot after failing to comply with election code sanctions, which he received when he sent mass e-mails to more than 4,200 UA students.
"Rules were broken by the election commission," said D'Angelo, who filed his appeal with ASUA elections commissioner Joe Rogers yesterday.
"I'm almost positive that my appeal is going to be rejected," he said.
If so, D'Angelo said he will appeal to ASUA Supreme Court.
Jennifer Reece once again grabbed the top spot for senator, with 54 percent of the total votes.
"I'm so surprised and so grateful to all of my friends," Reece said. "I'm excited to get to know all the senators so that we can work on making big changes."
Jered Mansell moved up from 12th place in the Senate primary race to fifth last night, and he credited his victory to campaigning more this week.
"After the primaries, I realized I hadn't campaigned enough, so I really tried to get my name out there and get publicity," he said. "I felt my heart drop when they announced my name."
Mansell also said he was pleased with the "fair balance" for the new Senate - five women and five men.
Wildcat assistant managing editor Jeff Ficker contributed to this article.