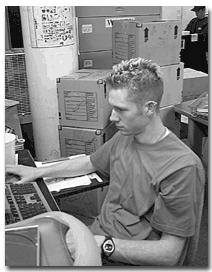 ERIC M. JUKELEVICS
Assistant photo editor, Randy Metcalf, cleans up a photograph on the computer last night in the Arizona Daily Wildcat newsroom. After 25 years in the basement of the Memorial Student Union, the Wildcat newsroom is moving to the Esquire building, 1230 N. Park Ave.
Arizona Daily Wildcat
Former, current staff reminisce about days in the union
After 25 years in the basement of the Memorial Student Union, the Arizona Daily Wildcat offices are relocating into a new set of walls and, finally, windows.
The Wildcat, along with KAMP and TV3, will settle into newly refurbished facilities at the Esquire Building, 1230 N. Park Ave., over Spring Break as construction spreads to the west end of the student union.
Although the newsroom will soon become a part of UA history, the memories stay alive for current and former staffers.
Michael Klein, who worked at the Wildcat from 1991 to 1993, stopped by during a visit to Tucson from his Blackburg, Va. home.
"I should rip off a piece of something and take it with me," he said as he surveyed the room, filled with aging furniture, stacks of boxes waiting for the movers and the chatter and clatter of reporters and editors working on deadline.
Klein, now 31, was a medical and arts reporter, and arts editor when he worked at the Wildcat. He was an English graduate student at the time, and spent some time as a technical writer before heading back to college to earn a doctorate in science and technology studies at Virginia Tech University.
"There was a lot of good times here," he said. "Clinton winning the election in '92 - of course, we were all Democrats then."
In the early '90's, only seven computers - which have now been replaced with 19 Macintoshes - were available to reporters and editors. The walls - now covered with scribbling and doodles from staffers - were freshly painted white for, ironically, the same reason at the request of the editor in chief.
"We painted the whole place," Klein said. "We got more paint on the floor than on the walls."
Tate Williams, spring 2000 editor in chief and a former news editor and reporter, has fond memories of the newsroom
"A lot of people have a lot of really great memories here, including myself," said Williams, who also held a reporting stint at the Arizona Daily Star. "It's sad to see it go."
Current staff, like sports editor Ryan Finley, will have to adjust quickly to the new working environment.
"I didn't even know this place existed until I got hired, but since I got the job here it sort of become home, even though it's so dark and windowless," said Finley, a journalism junior. "I don't really think about it now, but I guess there is some kind of honor in part of being the last staff to work down here."
Journalism senior Eric Swedlund was also a news editor and editor in chief before becoming the Wildcat's legislative correspondent in Phoenix.
"I've spent an unbelievable amount of hours in the newsroom and its strange to think it will never produce another newspaper," he said.
The Esquire building is on the corner of North Park Avenue and East Helen Street, one block north of East Speedway Boulevard and just across the street from McClelland Hall. The Wildcat's exact street and mailing address is 1230 N. Park Ave., Suite 201, Tucson, AZ 85721.
All phone numbers for the Wildcat newsroom and advertising offices will remain the same. To contact classifieds, call 621-3425; for display ads, call 621-1686; to get in touch with the Wildcat editorial staff, call 621-3551.