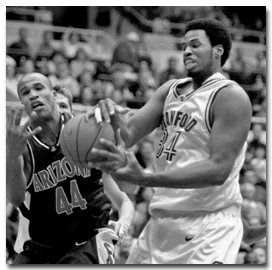 Associated Press
Stanford center Jason Collins, right, and Arizona forward Richard Jefferson vie for a rebound during the first half, last night in Stanford, Calif.
By The Associated Press
STANFORD, Calif. - The Pac-10 title wasn't quite on the line. Neither were the postseason hopes of top-ranked Stanford or No. 8 Arizona.
Yet both teams still played as if everything hinged on the result of the latest meeting between the West Coast's basketball powers.
Michael Wright's layup with three seconds left gave the Wildcats a 76-75 victory over Stanford in a back-and-forth game that exhausted both teams - and primed them for what they hope will be long runs in the NCAA tournament.
''That was a great college basketball game, not only from the standpoint of how hard both teams played, but how into the game the fans were,'' Arizona coach Lute Olson said. ''We ere very fortunate to win, and if Stanford would have won, they would have been the fortunate ones.''
Gilbert Arenas' 22 points, a dominant rebounding performance and tough defense in the final minutes allowed the Wildcats to claim their second victory over a No. 1 Stanford team in two seasons.
Wright's layup in traffic allowed Arizona (22-7, 14-3) to delay the Cardinal's hopes of claiming the outright Pac-10 title. Stanford must beat Arizona State on Saturday to avoid sharing the conference crown with Arizona and even UCLA.
The Wildcats, who outrebounded the Cardinal 36-27 and got 11 offensive boards, also avenged their loss to Stanford two months ago.
''It hurt us a lot to lose to them at home,'' said Richard Jefferson, who had 14 points. ''We just told ourselves before the game that we can't let these guys sweep us this year, because then we'd have to hang out for the next couple of months and think about it.''
Stanford (27-2, 15-2) led for much of the second half, but Arenas' steal and layup with 3:06 left gave Arizona a two-point lead. Stanford got back ahead on four points by Jason Collins, but he was called for an offensive foul with 42 seconds left. Jason Gardner hit one free throw to pull Arizona within 75-74.
Casey Jacobsen missed a 3-pointer with 16 seconds left, and Arizona set up one last play. Wright got the ball from Loren Woods in the middle of the key, sliced between two defenders and put the ball in.
''The last play worked exactly as we had planned,'' Wright said. ''Gilbert set a great screen, and I posted up. Loren made a perfect pass, and I muscled it in.''
With three seconds on the clock, Jarron Collins threw a length-of-the-court pass that was intercepted by Arenas. The Wildcats stormed the court in celebration and joyfully taunted the Stanford student body on the way to the locker room.
''This isn't going to be a big deal, but this has to motivate us,'' Jacobsen said. ''This shouldn't happen, but it's not going to stop us from doing what we want to do.''
Wright and Jefferson had 14 points apiece for Arizona, which won its fifth straight and likely sewed up a No. 2 seed in the tournament. Woods had 10 points and eight rebounds while playing solid defense against Stanford's Collins twins.
Jacobsen and Jason Collins had 20 points apiece as Stanford lost at home for the second time in four games.
''We gave them the opportunity to get a win, and they took it,'' Stanford coach Mike Montgomery said. ''We had so many other opportunities late in the game, I lost count.''
Much of the game's drama was lost when Stanford swept UCLA and Southern Cal last week in Los Angeles. Those wins guaranteed the Cardinal a share of their third straight conference title and practically assured a No. 1 seed in the tournament no matter the results of their last two games.
But when Arizona is in town, it's never a normal game for Stanford. Students began camping out Monday for tickets to the annual grudge match. One student stood outside the gym holding a sign that made a uniquely Stanford plea: ''Will Tutor Math For Tickets.''
Stanford beat Arizona 85-76 in Tucson two months ago while the Wildcats were still without Olson after his wife Bobbi's death.
Though little was technically at stake, the teams played as if their seasons depended on bragging rights in this heated rivalry. Neither team gained a sizeable lead all night, and three inconsistent officials only heightened the tensions.
Stanford began the game with Curtis Borchardt out for the season and backup forward Justin Davis unavailable because of an ankle injury. Then Jason Collins picked up three fouls in the game's first five minutes, leaving sporadically used backup Teyo Johnson to play 16 minutes.