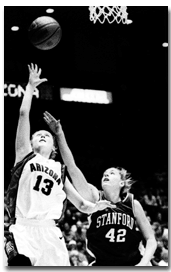 KEVIN KLAUS
UA freshman point guard Aimee Grzyb attempts a shot last night against Stanford in McKale Center. The Wildcats lost, 74-66, and likely will miss the NCAA Tournament for the first time in five years.
By Kamy Shaygan
Arizona Daily Wildcat
The Arizona women's basketball team might be dancing in March, but it won't be at the NCAA tournament.
The unranked Wildcats (18-11 overall, 8-9 Pacific 10 Conference), who have lost four games in a row, further diminished their tournament chances last night, falling to Pac-10 opponent Stanford, 74-66, in McKale Center.
"I can't really explain the feeling that I have right now," said UA senior guard Reshea Bristol, a four-time tournament veteran. "We're trying but they're not falling for us right now."
Arizona has made the NCAA Tournament four of the last five seasons.
When asked about the Wildcats' demise, UA head coach Joan Bonvicini was at a loss for words, then said: "It's disappointing."
The Cardinal opened the game with a 20-7 run.
"I thought Stanford - from the very start - set the tone with some jumpers," Bonvicini said. "(They) really that set the tone for the game."
Despite trailing 36-23 at halftime, the Wildcats began the second half with a 14-7 run, making it a six-point game.
Numerous times in the second half the Wildcats put the game within reach, but as soon as Arizona would trigger an offensive attack, the Cardinal matched it with three-pointers.
The Cardinal finished the game 10 for 20 from beyond the three-point arc. Freshman forward Nicole Powell had a team-high 29 points.
Trailing 65-70, with 2:35 remaining in the second half, the Wildcats went to the charity stripe.
UA freshman forward Veranda James missed both free throws, but the Wildcats had another opportunity as freshman forward Jen Chesney was fouled. Chesney made one of two, making it a four point-game, 66-70.
That was as close as the Wildcats would get.
The Arizona charge was led by junior forward Elizabeth Pickney, whose game-high 30 points was also a career-high for the Houston native.
"I thought Liz Pickney was unbelievable," Bonvicini said. "Not just hitting (shots) but wanting the ball. She wanted this game so bad."
Pickney said she was more concerned with playing California on Saturday than the Wildcats' slim chances of making the tournament.
"I think we just need to go out and focus on our next game against Cal," Pickney said. "We only have one day to prepare. We can't be worried about the future as far as the tournament goes."
On the offensive end, Bristol finished with a game-high seven assists to go with 16 points and three steals.