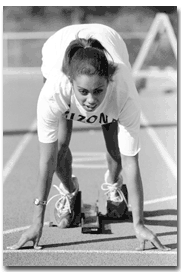 file photo
UA sprinter Brianna Glenn sets herself on the blocks during practice last season. Glenn and the UA track team opens the NCAA Indoor Championships today in Little Rock, Ark.
Arizona Daily Wildcat
UA sends 9 athletes in hopes of obtaining hardware
The UA track team will enter the final meet of the indoor season today when they travel to Little Rock, Ark., for the NCAA Indoor Championships.
The most prominent Wildcat competing will be junior Brianna Glenn, who enters the meet as the No. 1-ranked runner in the 60-meter dash and No. 2 in the long jump.
"There's a little pressure, definitely more than if I had entered in the middle," Glenn said of the expectation of the No. 1 rank. "But I like it that way."
Glenn's status for the 60m was bumped up from the No. 2 spot when Southern California junior Angela Williams decided to join Team USA at the World Championships in Lisbon, Portugal rather than compete.
UA assistant coach Fred Harvey was somewhat disappointed upon hearing the news of Williams decision.
"I would prefer to have (Williams) at the meet, but they make their own choices," Harvey said.
Harvey earlier in the week was hoping for Williams to show for a possible showdown between the two premiere athletes in the 60m.
"The same weekend when Brianna set her mark (of 7.21 seconds) in the 60m, Williams ran a 7.27," Harvey said. "She's now in a situation where she's beatable."
Unfortunately for Harvey and Glenn, the matchup with the Trojan standout will have to wait until the outdoor season where Williams is the defending NCAA 100m champion.
UA also boasts another title contender - the 4x400m relay team.
The team is made up of juniors Mike Kenyon, Matt Lea and Jules Doumbia running alongside senior Olympian Patrick Nduwimana, racing in his last meet as a Wildcat.
Nduwimana will anchor the relay team and hopes to add an 800m title to his already lavish resume.
The team enters the meet No. 7 in the nation but will try to make a bigger splash during the championships.
The format is one that the Wildcats feel will favor them.
UA is entered in the second - and faster - heat.
The national champion will be determined by the fastest time of the two heats.
"We feel like we're going to be the fastest team in the second heat," Kenyon said. "We feel pretty confident about winning (the national title)."