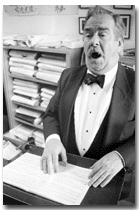 CHIHIRO NAGURA
Grayson Hirst, co-founder of the the AZ Bach Aria Consort and associate professor of music at the UA, practices his vocal training in his office in the Music building yesterday. Hirst, along with the rest of the Consort, perform at Holsclaw Hall tonight at 7:30.
By Lisa Lucas
Arizona Daily Wildcat
AZ Bach Aria Consort celebrates musician's 316th birthday
On this date in 1685, a kicking and screaming Johann Sebastian Bach entered the world, giving his family members just a brief glimpse at the kind of musical talent of which he would soon be capable.
Now, 316 years later, the AZ Bach Aria Consort, which made it's debut concert just last season, will throw a birthday bash - complete with cake - for the famous musician tonight.
Grayson Hirst, co-founder of the Consort and associate professor of music at the University of Arizona, described Bach's music as "genius, (combining) a supreme creative power with a forceful, original inventiveness and a vivid, inexhaustible music imagination."
Hirst said a famous group from the '50s and '60s, named "Bach Aria," inspired the development of the AZ Bach Aria Consort.
"We sort of took a cue from them," Hirst said. "It didn't take much prompting because there's a vast amount of music for a small ensemble in the repertoire of works of Johann Sebastian Bach."
Hirst said the Consort consists of around 15 artists, including both vocalists and instrumentalists.
"The groups vary in size from trios to sextets, depending on what you're programming," he said.
Members of the Consort are cast according to the repertoire being performed. Hirst also said there are virtually no auditions.
He added not all performers are faculty members. The group includes UA graduate students and teaching assistants as well as members of the Tucson community not affiliated with the university.
"It's really a joint venture between the community and the School of Music," he said.
While the group consults faculty members for involvement in the initial stage of casting, it is not unusual to discover a Tucson community member in the Consort's performances.
Tonight is one such performance. Tim Pankratc, who is not affiliated with the UA, will perform on the lute in a piece from "St. John's Passion."
"We try to find as much variety as possible to put on the program," Hirst said.
Bach's music, classified as baroque, includes what is known as "basso continuo," consisting of cello or bassoon and either organ or harpsichord.
"It's sort of the foundation upon which the baroque composers built their compositions," Hirst said. "It sounds pretty formalistic, but it's actually incredible - the variety and the depth of the quality of the music (Bach) composed within the demands of this baroque formula."
Hirst added the reason the group chose Bach over other baroque composers was "because he is at the top of the mountain - he is universally recognized amongst musicians as being the outstanding example of music of this kind of (baroque) system."
"He's astounding in his approach and his vast variety of music that continues to challenge us and inspire us 316 years after his birth," he said.
Bach, who was born March 21, 1685, will live on tonight through composition at the Consort's performance. It is, after all, a birthday performance in his honor.
"There is a reason why this man is revered amongst artists and musicians worldwide," Hirst said. "He's a pillar of our Western heritage, of Western civilization. A great wellspring of music poured out of him, and it's like a never-ending brook - a never-ending flow of incredibly challenging, inspirational music."
The AZ Bach Aria Consort performs tonight at 7:30 at Holsclaw Hall. Tickets are $10 for general admission and $4 for students with I.D. Call 621-2998 for more information.