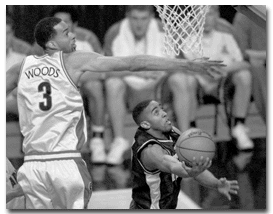 Associated Press
Eastern Illinois' Kyle Hill drives to the basket as Arizona's Loren Woods (3) defends during the first half of their NCAA first-round game Friday in Kansas City, Mo.
Arizona Daily Wildcat
Despite the team's offensive weapons, UA using defense to waltz through Big Dance
Not that Lute Olson has ever really needed to steal something out of the Arizona football team's playbook, but the UA basketball coach has his team running an impeccable version of the "Desert Swarm" defense.
In the team's ascent up the polls since its low point in January, the mastermind behind Arizona's success for more than 15 years has stressed the importance of stopping opponents even before they begin to think about creating shots of their own.
Hawking defensive strategies to his high-flying dunkers and quick-footed slashers isn't an easy sell, but like any good salesman, Olson had a hook.
"I think they're finding out that it's fun to defend," Olson said. "I think our guys are getting as much enjoyment out of shutting people down as they are scoring at the other end. They are finding out that it is fun to affect the game on both ends of the court."
Consider the five preseason All-Americans sold.
Said junior forward Michael Wright, "We had to (let go of our egos)."
When junior forward Richard Jefferson took a baseball-style wind-up and swatted a Ryan Mendez shot halfway to the Golden Gate Bridge at Stanford two weeks ago - all while jumping over the Cardinal forward - pandemonium hit the UA bench.
The jumping and shouting that the Arizona reserves gave Jefferson was more boisterous than the praise usually given to offensive fireworks.
With so much immense media attention, the NCAA Tournament makes for the perfect venue to put on scoring exhibitions.
But much to the delight of Tucson's top salesman, the tournament venue appreciates defense, as well.
"It's fun to get at somebody who is leading the country in scoring," said sophomore guard Gilbert Arenas, who limited Eastern Illinois' Henry Domercant to just 5 for 17 field goals. It was the NCAA's fifth leading scorer's worst shooting performance of the season.
"When he knows that he can shoot anything he wants, and if you're there stopping him from what he needs to be doing - that's great."
Though the Wildcats did keep Domercant and EIU guard Kyle Hill - two of the nation's top scorers - at bay, Olson said he was more impressed with the Wildcats' fortification of Butler Sunday afternoon.
In the NCAA Tournament's second-round matchup, UA restricted a team that relies heavily on its three-point shot to just 6 of 26 from behind the arc.
"In the second half, we basically kept them from reversing the ball (across the court)," said senior forward Gene Edgerson, who dubbed Sunday's denial of Butler's offense as one of the best defensive performances he's seen in his five years at Arizona.
This, coming from the man who personifies the UA defense.
There wasn't much of a sell-job to be done with Edgerson.
After all, he was the one giving the early Super Bowl nod to the Baltimore Ravens, who boasted the best defense of all time, statistics-wise.
"As often as it is said, defenses really do win championships," Edgerson said. "I get so excited about the prospects of this team right now because I see guys sacrificing their point totals for a chance to beef up on some guy at the other end."
As soon as the Wildcats boarded their plane in Kansas City, Olson had his video crew cue up tapes of Mississippi, UA's opponent Friday. To keep his team inspired, maybe Olson could dub in clips of Edgerson's favorite football team.
"There isn't going to be anyone that makes it into the Final Four that doesn't play with great defense," said Olson, who beams at the Wildcats' fleet-footed style. "We're quick, but you have to be intense and quick. And that's what I was pleased about. I thought our intensity level was there."
When the Wildcats face Ole Miss in the Sweet Sixteen, a 180-degree adjustment will have to be made from their game plan against Butler.
Like Arizona, the Rebels will likely try to turn the basketball game into a track meet rather than slow the game down like the Bulldogs did Sunday.
Lucky for him, Arizona is versatile, too.
"At this point in the season, I think you've faced everything and everyone," Olson said. "They are all playing very hard and are playing very well as a defensive unit."
Arizona hasn't completely forgot about putting the ball in the bucket, though.
When they weren't stopping their opponents on defense, the Wildcats managed to put up 174 points over two games.
"Coach has been preaching all year that a good defense leads to good offense, and that is showing," said sophomore forward Luke Walton, whom Butler head coach Thad Matta said caused the Bulldogs headaches.
Comments like that inspire the Wildcats. But who needs Matta when Lute Olson is doing the job?
"If you sell it to them as if it is fun and they discover that, you can get the players over that hump," he said.
Head to the register, Lute - the sale's already been made.