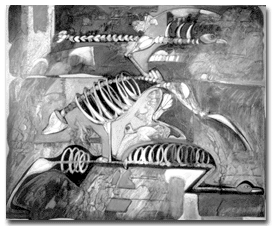 Photo courtesy of the UA Museum of Art.
"Genetic Engineering," an oil painting by Emilio Cruz, is part of the 11-person show "Contemporary African-American Artist," now on display at the UA Museum of Art. Cruz deals with moral issues of genetic engineering and the origin of written communication in this piece.
Arizona Daily Wildcat
African American artist to exhibit work at UA Museum of Art
Artist Emilio Cruz does not want to categorize his work.
"I absolutely prefer for my work not to be classified and instead to let it speak for itself directly to my audience," Cruz said.
Cruz's piece, "Genetic Engineering," created in the late '80s, is included in the show "Contemporary African-American Artists," on display until May 6 at the University of Arizona Museum of Art.
"The piece has to do with genetic engineering and the nature of evolution, and it deals with direct human interference with the process of human evolution," he said. "I am working with contemporary issues such as the moral consequences of genetic engineering."
"Contemporary African-American Artists" will run in conjunction with a reception and public lecture entitled "Art, Culture & the Human Struggle," sponsored by the Dr. Martin Luther King Celebration committee. Mikelle Omari Tunkara, a UA professor of art history and Africana studies, as well as Alfred Quiroz, a UA art professor, will speak at the lecture regarding pieces in the show and other works in the permanent collection.
Peter S. Briggs, curator of the show, said he decided to showcase the museum's recent acquisition of work by African Americans, whom he feels have historically been under-represented in museums.
"African Americans have and continue to contribute to our cultural and artistic environment in substantive and profound ways," Briggs stated in an e-mail. "The world of art has been co-equal in the undeserved and inequitable distribution of its attention to the artistic contributions of people whose skin pigmentation and culture history did not quite match up with European Americans."
Cruz said he is aware of the increased multicultural awareness and representation in modern museums and how this has positively affected his own work.
"Growing up in New York City, I had access to the Metropolitan Museum, the Hispanic Art Museum, Museum of Modern Art and the Guggenheim Museum," he said. "I got to see a lot of art from a wide variety of sources, and that was very influential to my decision to become an artist."
Beyond inclusion of multicultural artists in museums, increased technology has allowed for a greater spread of art throughout America and a greater level of accessibility for general public art.
"The biggest influence to my work was the presence of art itself," he said. "The very fact that because of the large number of museums and increased technology, we have a greater access to art than ever before and are exposed to it more often than ever before."
Cruz said, historically, many great artists have chosen to deal with social issues in their art, making the distinction that everyone should feel a responsibility to themselves first.
"No matter what culture it is coming from, all great art deals with social issues - consequently it is the responsibility of everyone to become great," Cruz said.
Along with artists' personal responsibility to further themselves, Cruz wants art to act as a tool to discover truth.
"The most important aspect of anybody's work is that it inspires them to further engage themselves in the most important issues that affect their time and to examine them from a larger historical perspective to gain a sense of the experience of truth," he said. "One has to look for what is true. Art has allowed me to engage in this search."