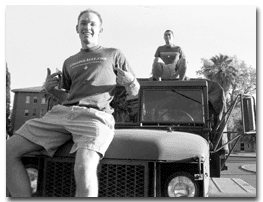 BEN DAVIDOFF
Finance junior Brian Kohl (left) and UC Santa Barbara psychology and black studies graduate Rudy McClain proudly lounge upon their two-and-a-half-ton military truck the students use to publicize the www.collegeally.com website, which UA students are encouraged to visit. The website deals primarily in textbook trading, a response to increasive campus bookstore prices.
Arizona Daily Wildcat
Textbook, other services available on CollegeAlly.com, Tradetexts.com
Two new, local Web sites are competing for the business of UA students by encouraging them to challenge the idea of buying and selling textbooks through the campus bookstore.
CollegeAlly.com was launched in November by Tucsonans Brian Kohl and Rudy McClain, and Thomas Jung, a materials science and engineering junior, but was revamped earlier this month.
Armed with a two-and-a-half ton military truck - which sports the company name and is outfitted with a massive speaker system - Kohl, McClain and Jung travel around campus trying to convince University of Arizona students to visit their site.
The three founders of the site came up with the idea of creating a textbook-trading Web site after being fed up with the high prices at their college bookstores.
"I spent $530 on books, and the bookstore only wanted to buy back one book, for only $30," explained Kohl, who formerly attended UA as a business student. "I thought that it would be great if there was a place to trade your books with other students in order to save some money."
Kohl soon realized that the Internet would be a great place to develop his idea.
"That night, I didn't sleep at all. I just kept writing out idea after idea," he remembered.
After contacting McClain, who had advertising experience, and hiring Jung to cover the technical side of the business, Kohl made his concept a reality.
"Our first idea was to have a place where students could sell their books to each other," McClain said. "But the trade community does not end with books."
CollegeAlly also has a bulletin board for potential tutors, a forum to sell exams and class notes and a "yardsale" feature that allows students to sell any personal items such as refrigerators or couches to other students on their campus or in their town.
"You get a list of all the different items and how many miles away everything is," Kohl said. "This Web site is something that students all over the country can use and still trade with people in their area."
According to the site, the top goal is to help students save money.
Rudy Adler, an undeclared sophomore, also owns his own textbook-trading Web site.
Adler's Web site, Tradetexts.com, was launched in October, just prior to CollegeAlly's debut, and was created and designed for the same basic purpose - to save students money.
"The key is that mine is free and (CollegeAlly) is not," Adler said. "I'm trying to provide a service, not make a billion dollars like they are."
Adler pointed to what he calls a "hidden" posting fee on CollegeAlly and added that the site charges a five percent commission on all materials posted on the site.
While CollegeAlly's founders admit they originally had a posting fee, they said they removed it after getting negative feedback from students. They do admit to charging a commission, but say it is only on materials sold, not those that are simply posted.
Adler also said access to his site has been made more difficult by CollegeAlly, as the founders of the competing site have registered the domains Tradetexts.net and Tradetexts.org, redirecting his potential customers to their site.
CollegeAlly's founders denied ever redirecting Tradetexts' customers to their site, but they did admit to registering the domain names Adler listed, along with more than 70 other domain names.
"The idea is to dominate the market," Kohl said. "All (Adler) has to do is send us a letter saying he wants the domain names, and he can reimburse us for the cost of registering them."
Jung said that the group's advertising campaign, army surplus vehicle and all, is necessary for a site like CollegeAlly.
"We wanted to do something out of the ordinary," he said.