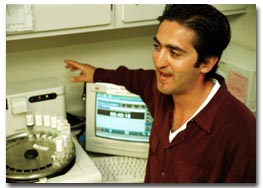 ERIC M. JUKELEVICS
Davud Sirjani, a UA medical student, explains how the immunohistochemistry device that he used for his cancer research operates. While doing his research, Sirjani detected and self-treated a cyst in his body that could have turned into a fatal cancer tumor.
By Ayse Guner
Arizona Daily Wildcat
Medical student who battled potential cancer contributed to the finding
A group of Arizona Cancer Center researchers has discovered cancer stimulating growth factors in parts of the body where the proteins have never before been observed.
The discovery has led to a clinical trial that is currently underway at the cancer center located at the University Medical Center, and another trial will initiate next month, which will be the first of its kind in the nation.
The UA scientists studied a protein named VEGF, which is known to stimulate the growth of solid tumors. However, they looked at the protein's role in so-called liquid tumors.
While solid tumors are those that occur in organs, such as the breast or the lung, liquid tumors consist of blood cells that have become cancerous. Leukemia and lymphomas are the most common blood cancers.
The UA scientists have discovered that the protein actually activates cancer cells to communicate, and allows cells to live longer by helping more blood reach the tumor, in turn shortening a patient's life.
By inhibiting the protein with a drug, researchers can reduce the growth of the liquid tumor in test tubes by about 50 percent.
The direction that the researchers aim toward is looking at these blood-born cancers for the expression of various proteins that are related to a subject called angiogenesis - growth of new blood vessels.
"Now we are ready to take it to the next step and begin looking at certain treatment options that are directed against these growth factors as well as the process of angiogenesis," said Dr. Edgar Bellamy, the lead researcher in the study. "It may give us another tool to fight these particular types of cancer."
Beginning May 1, UA assistant professor of medicine Dr. Alison Stopeck will oversee the testing of VEGF inhibitors on cancer patients who have non-Hodgkin's lymphoma. She will check whether the patients get well and whether the anti-angiogenic treatment is non-toxic.
The discovery, which was published in the scientific journal Blood this month, was the result of two years of work studying angiogenesis.
The work has involved three different labs and eight researchers, one of whom is a medical student who battled a potential cancer himself while he worked on the project.
Angiogenesis - the creation of new blood vessels that tumors rely on to grow and spread - has been a widely-studied subject in cancer over the past decade.
In 1999, Dr. Richard Klausner, director of the U.S. National Cancer Institute, designated the development of anti-angiogenic therapies for cancer as a national priority, according to the Angiogenesis Foundation's Web site.
"Almost every tumor imaginable has this process turned on, so there is a tremendous excitement in this area right now in terms of therapeutic potentials," Bellamy said.
Many researchers have studied the affects of angiogenesis, but no group other than the UA researchers has looked into angiogenesis in liquid tumors, Bellamy said.
He thought of the idea about five years ago after attending a conference with Boston researcher Dr. Judah Folkman, who originally proposed angiogenesis inhibition as a cancer therapy.
"No one thought to look at these (liquid) tumors because if you think about it why does a tumor that lives in blood need new blood vessels," he said. "I mean it has everything it needs right there."
In their study, the UA researchers collected 30 pre-leukemia patients' bone marrow specimens to analyze the protein vascular endothelial growth factor, or VEGF. It's one of the most potent angiogenic growth factors.
In order for a tumor to grow, Bellamy said, it needs new blood vessel formation to bring in oxygen and nutrients and to remove waste products out of the tumor. Tumors release a variety of growth factors and VEGF is one of them.
Coincidentally, one of the researchers working on this cutting-edge research project recently had his own battle with a potential cancer. Davud Sirjani, a fourth-year medical student, worked in Dr. Thomas Grogan's lab by doing immunohistochemistry - a technique used to visualize the expression of specific proteins like the VEGF within an individual cell.
Sirjani, who suffered from sleep-disordered breathing for three years, discovered a cyst in his sinus region while working on the project.
Sirjani, who left Tucson yesterday to St. Louis for his residency at Washington University in St. Louis, said in an interview before he left that his disease has led him to be more caring toward patients - especially for those with cancer, he said.
Sirjani had to wear a gigantic breathing device covering his mouth and nose every night when he had the disease, he said.
His physicians did not detect his disease in its early stages, which delayed his treatment. He finally detected it on his own when he inserted a tube in his nose and looked in with it, finding a two centimeter long cyst which could have turned into a fatal tumor within a couple of years. His cyst was removed right after the diagnosis.
Because Sirjani is a medical student and knew about his disease, he didn't have too much fear, he said.
"My disease was more of a nuisance than anything," Sirjani said. "But it helped me to become a better educator."
That is why, he said, he will choose oncology, or the cancer specialty, as his future field. This will allow him to work closely with patients and explain treatments in a way that should reduce a patient's fear.
"Cancer patients are always looking for hope," he said. "You can only help them by giving hope."