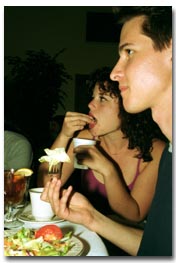 MATT HEISTAND
Undeclared freshman Peter Zinsli eats a three-course catered meal while international studies sophomore Lilach Shafir eats rice out of a paper cup last night at the 2001 Hunger Banquet in the Memorial Student Union's Senior Ballroom. The Hunger Banquet is intended to show the unequal divisions in the world's resources between the upper, middle and lower classes.
Arizona Daily Wildcat
Students discuss the unequal division of world resources
About 70 people were representative of the world's richest and poorest last night at the 2001 Hunger Banquet.
Before entering the Memorial Student Union Senior Ballroom, students drew a piece of paper from a bowl, which randomly decided their economic position in the exercise.
Drawing an upper-class ticket meant a chair at an elegantly set table and a three-course catered meal. The middle class received rice and beans buffet-style. The lower class served themselves rice in Styrofoam cups and ate with their fingers, and women ate after the men. The drastic difference in meals was a metaphor for the unequal divisions in the world's resources between the upper, middle and lower classes.
Patricia Healey, a political science and Russian studies senior, was assigned to the first world.
"It was very surreal, in a way, to be sitting at a table eating a three-course meal while there were lots of people on the floor," she said.
Speakers talked about upcoming events and other ways to help Tucson's needy. The Casa Maria soup kitchen needs volunteers and clothing and food donations. The Catholic Newman Center makes sandwiches for the hungry the first Sunday of every month. The Spring Service Festival, which will be on the UA Mall tomorrow, has many community service opportunities for students who want to help the needy.
After the meal was served, students were given an opportunity to discuss what they thought of the banquet. Comments ranged from feelings of guilt - particularly in members of the upper class - to confusion from the lower classes at the unfairness of it all.
Brendan Tarnay, a political science junior, was in the third-world group.
"There was a sense of animosity-we were still waiting for rice while they (the first world) had salad and iced tea with lemon," he said.
"It struck me as significant how the women in the third world had to wait until the end of the line." Healey said. "I have the luxury of talking about abstract things like rights while these people live a different reality every day."
The event was sponsored by the University Activities Board.