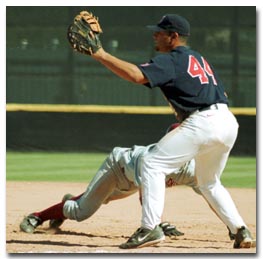 BRYAN TROLL
UA first baseman Ernie Durazo attempts to make a tag on a Southern California opponent last Sunday at Frank Sancet Field. The UA baseball team will take on Oregon State this weekend in a vital Pacific 10 Conference series.
By Brian Penso
Arizona Daily Wildcat
When the UA men's basketball team heads to Minnesota this weekend for the Final Four, Arizona's baseball team will be in the midst of a three-game series with Pacific 10 Conference opponent Oregon State.
Even though the baseball game will overlap the basketball game, the Arizona baseball team will be glued to the television once their game has concluded.
"We have a TV in the locker room, and it will be turned on as soon as our game is completed," UA baseball head coach Jerry Stitt said. "During the game versus Illinois, all of our players stayed in the locker room until the final whistle was blown. No one even thought of leaving, even though we had the big lead going into the final two minutes. Everybody was just pulling for the team."
Senior first baseman Ernie Durazo and junior right fielder Shelley Duncan said being involved in the Arizona athletic program has made them more spirited and involved in the success of the basketball team.
"This is huge for all athletes," Duncan said. "Everyone sees each other in the weight room and we are all very friendly and proud of everyone's success."
Durazo, a native of Tucson, has been an Arizona fan his whole life, but being a Wildcat has given him even more UA spirit.
"Go Cats," Durazo said. "I have been rooting for them all year and I wish them all the best of luck. I think that they are going to take the title."
---
Durazo, UA's offensive leader this season, has seen the success his brother Erubiel Durazo has had as a member of the Arizona Diamondbacks this spring.
On Tuesday, Erubiel Durazo led the Diamondbacks to a 12-5 victory with a grandslam and five RBIs, but that was not good enough to gain an opening roster spot with the club.
Instead, he was optioned to the Diamondbacks' Triple A team here in Tucson.
Erubiel Durazo, a former Pima Community College baseball star, hit .321 in the spring with a team-high six home runs and 15 RBIs, which is second on the team.
The Diamondbacks acquired veteran first baseman Mark Grace from the Chicago Cubs in the off-season, which left Erubiel Durazo out of a job.
Ernie Durazo said he was a bit shocked, but not surprised.
"When you have a proven player like Mark Grace, you cannot platoon him," Ernie Durazo said. "My brother, though, has a real good attitude and he knows what it takes to be in the majors, and he just has to continue to work hard."
Ernie Durazo though said he does not expect his brother to spend much time in Tucson.
"He has no control over front office decisions," Ernie Durazo said. "He will be back up sooner than people think because he can be a valuable asset to any team and he has not let this bring him down whatsoever."