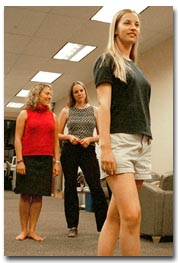 CHIHIRO NAGURA
Anna Young (front), ecology and evolutionary biology and two-dimensional art junior, rehearses Tuesday for tomorrow's charity fashion show. The show will be performed at Roskruge Middle School auditorium at 7 p.m. to raise money for the Ronald McDonald House.
By Shana Heiser
Arizona Daily Wildcat
Runway fashion show stars students, dancers
"Attitude!" the director yelled as his models strutted down the runway in preparation for tomorrow's big show.
However, these models are not in London, Paris or even New York - they are University of Arizona students bringing fashion to Tucson.
With stores including Dillards, Hot Topic, Miller's Outpost and the House of Tuxedos providing the clothes, about 15 UA students and 35 elementary and middle-school students will be clad from head to toe in the latest fashions.
Education junior Drew Berns, who is sponsored by Project Volunteer, will direct the second annual fashion show to raise money for the Ronald McDonald House and show off students' talent.
Though Berns selected most of the attire for the UA models himself, Robin Gilbert, retail and consumer sciences junior, helped him out.
She, like other participants, said she hopes to pursue a career in the fashion and designing field.
"I'm really interested in fashion shows and the background stuff," Gilbert said. "I want to produce fashion shows as my career. Hopefully, I'll move to New York, work for a designer and work my way up."
It was a stretch for the show to recruit male models, but Berns said three or four agreed to join.
"The first time I came, I was the only guy and he (Berns) made me practice the guys' number by myself - some of the girls yelled and cheered," said communications freshman Joe Martin.
Martin said he will get to do his "modeling attempt" with a middle school boy, whom he said he hopes will steal all the attention.
"It's embarrassing to model with about 15 good-looking girls watching you, especially as a not-so-confident redhead, but it's fun," Martin said.
Most of the models are amateurs, so they said Berns showed them, in his terms, how to model. Others gleaned their confident hip swings and three-point turns from televised runway shows.
"We taught each other from what we know or have seen on TV," said Lauren Matheke, a retail and consumer sciences freshman. "I think it's going to be pretty easy. Some people are stressed, but it's self-explanatory."
Gilbert does not model, but she helped produce an overseas fashion show complete with 500 guests, invitations and expensive tickets, so her insight helped the UA project.
"I studied abroad in London, and I was in a fashion show produced by my class," Gilbert said. "(Here) there are some pieces with just college students and just kids and with both."
Communications freshman Chrissy Coolidge and other models pulled from the greek system are trying to convince other members of their houses to attend so the audience will grow beyond the expected family and friends of the younger models.
"There are going to be a lot of frat boys and greeks in attendance," Coolidge said.
Also performing in between the runway numbers will be dancers from the Tucson Lindy Hop Society and the UA Swing Cats.
Last year's show raised about $1,000, Berns said, and he hopes to raise at least that amount tomorrow, if not more. The number of models has also drastically increased - from 19 to about 50 - and Berns said the future will only bring bigger shows and more charity money.
"Other schools in the community have been responding, saying they want us to come," he said.
The show is in the Roskruge Middle School auditorium, 501 E. 6th St., at 7 p.m. tomorrow. Admission is $6 at the door.
Even with weekly practices and plenty of preparation, Martin still worries about the unlikely, but possible, mistakes that could happen during the show.
"In my worst nightmare, I could see myself tripping down the runway," Martin said.