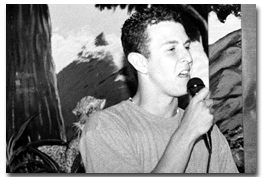 BEN DAVIDOFF
Creative writing junior Chad Coenson reads his poem "When it Rains it Pours" last night at Hazy Dayz Cafe, 187 N. Park Ave. Open poetry readings are held every Wednesday night at 7:30 at the local coffeehouse.
Arizona Daily Wildcat
Weekly poetry readings provide a laid-back, poetic experience at local coffeehouse
Born of a desire to unite community and performance, the Hazy Dayz Lounge Cafe presents weekly poetry readings in a casual and upbeat setting.
Positive vibes emanate from the student-owned and operated hang-out spot at 187 N. Park Ave., which features eclectic and inspirational local art, a comfortable lounge-like setting and 100 percent organic (but still cheap) coffee. The courtyard's lighting shows off tall palms, strange sculptures and artistic graffiti.
Media arts junior Dove Diamond was instrumental in transforming the cafe into a weekly venue for the presentation of creative spoken word.
"I came from L.A. and I was disturbed by the lack of culture here (in Tucson)," Diamond said. "I decided to stop bitching and start doing something about it."
In addition to his desire to make the city more hip, Diamond was originally inspired to give poets a voice by a meeting with Saul Williams, the father of slam poetry.
"Saul is a very reserved individual," Diamond said, "but he knows how to have a good time. I learned from him to stop living each day as if it were my last, and start living each day as if it were my first."
Plus, he said, hearing other writers read their works keeps him creative and inspires him to write more.
The readings have become more and more popular as performers realize that this soapbox offers the safety of positive vibrations so often missing from today's trendy, competitive slam-style readings.
In September, when the cafe first presented readings, they were only a bi-weekly occurrence. But now the free readings are packed with hopeful orators every Wednesday night at 7:30.
The increase of performers is partially why Hazy Dayz owner junior Dan Childers does not advertise the event with more gusto.
"It's stressful," he said, referring to running a successful business. "I want to keep my hair for a little while longer at least."
At the same time, Diamond, who moderates the readings, likes the crowd as it is now. While he emphasizes that everyone is welcome to sign up to read, he it totally satisfied with the current "family of readers" the coffee house currently attracts.
"There's a lot of love and positive energy (at the readings), and for lack of a better word," he said, "it's infectious."
He compares the readings to group therapy.
"The audience must be ready for any emotion or occurrence that comes out as a poet reads," he said.
To keep the reading under relative control, poets are limited to performing two pieces, and prose or fiction readers are encouraged to keep their stage time at five minutes or fewer. Since the reading does not continue after 9:45 p.m., this system allows for rotation if there is more time than readers.
Last night was the first time UA philosophy alumnus Jim Goar had read at the cafe. He was nervous, but curious to hear his own rhythms as he orated his own piece.
"I'm not sure about my oratory skills," Goar said, "and I'm not sure I won't stumble over my own words."
The audience received Goar's work with rampant applause, and his nervousness was replaced with a sense of artistic accomplishment .
Creative writing junior Chad Coenson read two pieces, "When it Rains it Pours" and "Bob Dylan's Autograph." It was his first time reading at Hazy Dayz, though he has performed previously in a similar setting in Atlanta. He enjoys reading and hearing other poets read because he feels the experience brings people to a place where they are forced to use their minds instead of sitting in front of the television.
"I feel good anytime I can exchange my energy with people and make them feel better about their lives for a moment ... and take them away," Coenson said. "I think any performer should feel like a servant to the audience and also the audience should be a servant to the performer."
But accounting and Judaic studies sophomore Oliver White said he feels that writers write because they feel they cannot express themselves adequately in day-to-day conversation. He has been reading his works at Hazy Dayz since the advent of the cafe's poetry readings.
"I read because I like hearing my own voice read what I've written," White said, "and I like other people to hear it too. I stop reading when I feel I've nothing left to give."
Hazy Dayz Lounge Cafe can be reached at 884-0272.