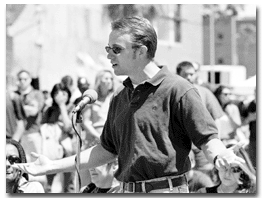 KEVIN KLAUS
Fine arts senior Justin Bean expresses his anger about the "thugs" who vandalized vehicles and businesses along Fourth Avenue after the Arizona basketball game on April 2. A forum was held on the UA Mall yesterday to discuss the riot and how people felt about it.
Arizona Daily Wildcat
Eleven days ago, a congregation of disappointed fans on North Fourth Avenue watched a peaceful scene unravel as about 30 individuals overturned cars, bashed store windows and burned a Winnebago.
Yesterday, hundreds more gathered on the UA Mall for an open forum. Another eruption ensued - this time a riot of words, as students and UA leaders talked about what happened, who to blame, and how to prevent a repeat occurrence.
Some students criticized the police response. One female showed bruises on her arm where she was hit with rubber bullets. Another student talked about how he was fired upon by police with lead-filled bean bags as he pushed a man in a wheelchair into his home.
Others blamed the media, especially the television stations that continued to broadcast live footage as the violence escalated nearly two hours after the Wildcats lost to Duke in the NCAA title game.
Mike Polakowski, an associate professor of sociology and public administration and policy who teaches a course on criminology, said the police should have interfered sooner, but he found a greater fault with the onlookers.
"We have a moral obligation to do something," he said. "Each time we do nothing, we present another opportunity to do destructive things. You can't tell me that 2,800 people can't overcome 20 or 30 miscreants."
UA President Peter Likins, one of eight panelists, maintained his stance that the university will take action against those who damaged property.
He asked for feedback on how to prevent another riot. One woman received a round of applause when she suggested a bonfire so "those who need to destroy something can do it in a controlled environment."
Also on the panel were Dean of Students Melissa Vito; university Police Chief Tony Daykin; UA basketball player Eugene Edgerson; student representative Sarah Becker; Polakowski, and KVOA Channel 4 news director Lisa Contreras. Vice President of Campus Life Saundra Taylor served as moderator for the event.
Becker said she talked with students and the consensus was that those who were rioting were not students. She said she felt all the media attention given to police preparation before the game fed the defiant mentality.
Edgerson asked those who used video cameras to document the affair that evening turn their footage over to police.
Contreras spent most of the forum on the defensive. She said it was irresponsible for people to blame the media.
"We did what we could to stay out of the way," she said. "We were there to document what happened, that's all."
Pre-business freshman George Moore said he went to Fourth Avenue after watching the riot on television.
"It looked crazy on TV," he said. "I wanted to be a part of it."
Clinton Summerfield, a 36-year-old human development senior, questioned why the focus wasn't on the alcohol being sold in the Fourth Avenue area.
"The responsibility falls on the bars, not the university," he said. "How are these guys supposed to have good judgment when they're drunk. The bars opened at 11 a.m. and served all night. That's terrible."
Lydia Lester, a linguistics junior, announced the phone number to the independent police auditor whose job is to take citizens' complaints. She encouraged those with police grievances to take advantage of the number, 791-5176.
The forum lasted more than an hour, but Taylor said more talks would continue.
"This is not the end," she said. "This is only the beginning."