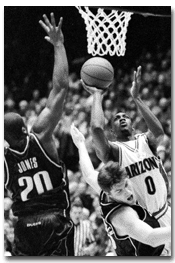 KEVIN KLAUS
UA sophomore guard Gilbert Arenas drives to the basket against an Oregon opponent March 3 in McKale Center. Yesterday, Arenas became the fourth UA underclassman to declare himself eligible for the NBA Draft.
Arizona Daily Wildcat
Sophomore guard's NBA announcment makes the fourth Wildcat to leave this week
With the rate at which Arizona basketball players are leaving the program, Lute Olson may never want to go on vacation again.
When the UA head men's basketball coach left town last week, his National Championship runner-up team was pretty much intact for next season.
When sophomore guard Gilbert Arenas announced his eligibility for the NBA draft yesterday, he became the fourth Wildcat to do so since Olson headed for Mexico.
Arenas' departure doesn't come as a surprise to the UA assistant coaching staff considering the breakout season he had, though.
"This is by no means a shocker to any of us, as we were more wondering when it was going to happen and not if it was," undergraduate assistant coach Josh Pastner said.
"We all know how good Gilbert is, but then the NBA scouts just reinforced it when he was talking to them about it. I don't think that it was tough for him to make the decision, considering the success he had this season."
Arenas led UA in scoring this season by averaging 16.2 points in 36 games this season. The 6-foot-3 shooting guard made 47.9 percent of his field goal attempts and ended the year averaging 3.6 rebounds, 2.3 assists and 1.8 steals en route to All-Pacific 10 Conference and third team ESPN All-American accolades.
"I want to thank everyone associated with Arizona basketball, especially Coach Olson and (UA assistant) Coach (Rodney) Tention," Arenas said in a prepared statement released by the UA Sports Information Department. "When I came here two years ago without much recognition, I always thought I'd play here for four years. But after two great years in Tucson, I feel like I'm ready to take the next step and play in the NBA."
Pastner said Arenas' decision made sense.
"The NBA draft is like the stock market, where the players are the commodities," he said. "You can run hot and cold, but in the end, you've got to make sure that you cash in your chips when you feel that you've reached your ultimate value."
In that case, Arenas probably sees himself in the midst of a bull market.
In the second half of the season, he averaged 18 points per game, including a 47.7 percent of three-point attempts . He was also the Midwest Regional's Most Outstanding Player, averaging 14.4 points in the NCAA Tournament.
What does scare the UA coaches is that as a teenager, Arenas will be entering a league where some players are nearly twice his age.
"I told Gilbert square to his face that at 19 years and 3 months old, there is nothing that would hurt him by spending another year under the umbrella of Arizona basketball," associate head coach Jim Rosborough said. "Staying for all four years didn't do any disservice to the Damon Stoudamires and Jason Terrys that have come out of this program."
Pastner agreed.
"The NBA is a dog-eat-dog world where it truly is every man for himself," he said. "Here in college, you don't have to worry about making buses, getting dinner or running your life. But at the professional level, Gilbert is going to find that the other players will eat his heart just to get his position."
While Arenas consulted his father and the UA coaches on the decision, Rosborough believes that nothing was going to sway him.
"Once these guys have their eyes focused upon the NBA, then that's all they see," he said. "Gilbert's father was going to support whatever his son wants to do and we were going to do the same. The both of them came in to talk about the different possibilities, but I think Gilbert knew in his mind where he was headed all along."
Even though Arenas, junior forwards Michael Wright and Richard Jefferson and sophomore guard Jason Gardner made their announcements with Olson out of town, Rosborough said that his presence wouldn't have made any difference.
"I talked to Coach (Olson) a couple of days ago to inform him of what was going on and there wasn't any surprise on his part either," Rosborough said. "Nothing would have changed by having him around. Richard, Michael, Jason and Gilbert knew exactly what they were doing and were anxious to get on with the draft process."
Arenas, like Wright and Jefferson, has dropped out of school to attend workouts for the draft, which will take place June 27 in New York City.
It is difficult to predict where players will be drafted, but Rosborough figured Arenas to be chosen somewhere in the middle of the first round.
If he performs well at the pre-draft camps, he may become a lottery pick, Rosborough added.
"Gilbert leaves here with the same wish that I've given the other three guys," Rosborough said. "It's absolutely, unequivocally with our blessing."