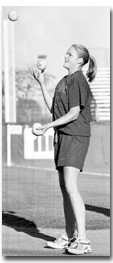 KEVIN KLAUS
UA junior pitcher Jennie Finch clowns around during practice yesterday at Hillenbrand Stadium. Arizona will take on ASU today and tomorrow at 7 p.m. at home.
Arizona Daily Wildcat
More on the line than 1st place in the Pac-10
In-state bragging rights. A coach who swapped school colors. A pitcher with a permanent smile on her face.
When the Arizona and Arizona State softball teams take the field at Hillenbrand Stadium tonight at 7, a host of subplots could hide what's really at stake for both teams - gaining control of the Pacific 10 Conference race.
For the first time in several years, No. 2 Arizona (39-4 overall, 3-2 Pacific 10 Conference) looks up at No. 8 Arizona State (30-9, 5-1) in the conference standings.
But with two home games today and tomorrow at 7 p.m., the Wildcats have a golden opportunity to climb back into the driver's seat in the race for the Pac-10 title.
While Arizona dropped two of three road games last weekend against Washington and UCLA, the Sun Devils swept the Huskies and Bruins, and made a statement to the rest of the Pac-10.
Arizona trails ASU and Stanford by 1 1/2 games, with the No. 3 Cardinal (35-3-1, 5-1) playing a home-and-home series against No. 4 California (41-4, 2-3) this weekend.
"For the first time in a long time, we're facing an Arizona State team that's hot," UA head coach Mike Candrea said. "Right now, Arizona State is probably as hot as they've ever been. It's our job to shut them down."
To have a chance at sweeping ASU and re-asserting themselves as the team to beat in the Pac-10, the Wildcats will have to rediscover their missing offense. Arizona leads the nation with a .366 team average, but is hitting just .216 since conference play began two weeks ago.
"Right now it's just more mental than physical," UA freshman Mackenzie Vandergeest said. "We all have it physically, we're there, we're ready. We just need to put it all together."
Like Vandergeest, Candrea is waiting for his team to "put it all together" and reach its potential. That won't happen until the Wildcats go up to the plate with more aggressiveness, he said.
"We need to start free-swinging a little bit," he said. "There's no doubt that this team has the capability to be the best team in the nation. Have we proven that? No. This is the time we need to prove it."
Arizona State, meanwhile, has also compiled some impressive statistics. As a team, the Sun Devils are seventh in the nation with a .309 average. Their top two pitchers - Erika Beach (14-5) and Kirsten Voak (12-3) - have combined to limit opposing teams to slightly less than one earned run per game.
Beach was named Pac-10 and Division I Player of the Week after her strong showing last weekend. She batted .700 in the three Sun Devils' wins and also picked up her 14th win in the pitching circle in a 5-1 decision against the No. 14 Huskies.
While the main focus of the two-game series will be toward the Pac-10 standings, other plots should intensify the already competitive rivalry.
For starters, Candrea graduated from ASU in 1978. Even with his Tempe roots, he insists that UA-ASU games are no different than any other Pac-10 contest.
"It's not really a factor - you could cut me open right now and I'd bleed red and blue," he said.
Some bad blood developed between the programs last season when UA dropped a 3-1 decision in Tempe. The loss snapped a 38-game winning streak against the Sun Devils.
Before the game, ASU coaches allowed senior Becky Lemke to warm up in the ASU bullpen because the visitor's mound was under construction. Voak, the Sun Devils' top pitcher last season, was unhappy about that and had a few words, Lemke said.
Even with this incident, the main reason the Wildcats dislike the way Voak approaches the game isn't because she's unhappy. Quite the opposite.
"She's always smiling, even when she gives up a home run," Lemke said. "We just hate that she's constantly smiling out there."
Despite the extra factors surrounding the game, Lemke said she respects the progress ASU has made to become a Pac-10 contender.
Respecting them and liking them, though, are two different things.
"It is just another Pac-10 team, but I think it's even more just because it's the rivalry," she said. "I grew up playing against some of their players and there's some I don't like, some I just can't stand."