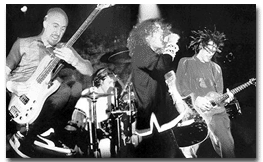 Photo courtesy of rollingstone.com
Boy Hits Car from (left to right): bassist Scott Menville, drummer Michael, vocalist Cregg and guitarist Louis. The band plays with Simon Says tonight at 8 at the Rialto Theatre.
By Adam Pugh
Arizona Daily Wildcat
Boy Hits Car plays with Simon Says tonight at the Rialto Theatre
Boy Hits Car, a self-titled "Love-Core" band gives birth to a new album, tour and edge that has not been matched musically in recent history.
"Some people say we are metal, but we like the name 'Love-Core' for our music," bassist Scott Menville said. "It is kind of fitting - we have our hard heavy edge then there is our soft loving side."
The rock-rap music scene has been saturated by the angst of teenage testosterone and metal riffs since the '80s. But, Boy Hits Car defies the new wave of metal and incorporates the personality of four young men into a sound that ranges from soft and mellow to biting and screaming.
"Sometimes we are heckled when we start out real quiet," Menville said. "But then we get all hard and people don't know what to do for a minute - then they get into the music."
The group signed on to Wind-Up Records last year after a struggle to find a home for its music. Originally on a small independent label called Seismic Records, the group saw little success.
"The label was so small that we were the only band they had," Menville said. "Then for about a year after that, no one (labels) would touch us."
This small bump in the road made the members of the group work harder than ever to make their music stand out Menville said. After a year of touring, playing anywhere it could, things began to change for the group.
"All of a sudden we were the cool kids on campus," Menville said. "We started playing showcases (for labels) and we went with Wind-Up. They wanted a career artist, not some one time deal."
Boy Hits Car's music is filled with hard-edged lyrics and massive guitar parts but Menville said there is a soft side to all of the band's music.
"The songs have despair and angst," Menville said. "But in the lyrics, there is a sense of hope that everything is gonna be OK."
With an "unforgettable" live show and powerful music to back it up, Menville said the group is more together than ever. Describing it as "a group of brothers who know each other well," Menville added the bond the members have with one another is made plain to the fans.
"We have a good connection on stage and we carry it over to the audience," Menville said.
Fresh off of the winter Sno-Core Tour with the likes of System of a Down, Kittie and Machinehead, Boy Hits Car is crashing through its touring schedule and rounding up new fans.
"We won over a lot of new fans on the tour," Menville said. "Even Morgan (Lander) from Kittie."
Having been the opening act for much of its life, Boy Hits Car now alternates nights as headliners on its current tour with Simon Says. Menville said the response to its music has been more than what the group expected.
"People say our live show is unique," Menville said. "But since we are on stage, it is hard to tell exactly what it is that makes us different."
Boy Hits Car
Boy Hits Car, along with Simon Says, play tonight at 8 at the Rialto Theatre, 318 E. Congress St. Advanced tickets are $10, available at Zips Records. Call 798-3333 for more information.