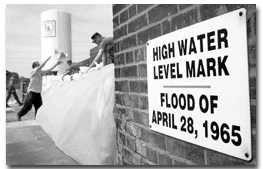 Associated Press
The red line on the side of the Iowa-American Water Company in Davenport, Iowa, shows yesterday, the high water mark of record spring flooding at the location several decades ago. Army National Guardsmen and other volunteers build a dike in the background which will be higher than that flood, just in case.
By The Associated Press
PRAIRIE DU CHIEN, Wis. - The muddy waters of the Mississippi River engulfed homes and pushed sandbag walls to the limit in Prairie Du Chien, Wis., after cresting short of predictions 60 miles upriver at La Crosse.
Dorothy and Al Reed moved furniture out of their home in this southwest Wisconsin river town Wednesday, then spent the night in the two-story structure despite water that filled the basement and covered a porch.
"It's starting to seep into the kitchen," Dorothy Reed said yesterday morning. "The whole house will have it."
The river was expected to crest early today in Prairie du Chien, and Reed said she planned to go to her daughter's nearby home, which is on higher ground, while her husband stayed behind.
"It's not easy to watch your house go under water," she said. "It's all you own, you don't have any choice. It gives you a sick feeling in your stomach."
Her husband planned to stay, she said, "but if it gets on our regular floors, I'm leaving. That's more than I can take."
The Mississippi crested at 16.41 feet Wednesday morning at La Crosse, a foot-and-a-half below the record set in April 1965, and had dropped to 16.25 feet yesterday morning. Officials said it could take weeks for the river to slip back into its banks and below the flood stage of 12 feet.
"Our dikes are still holding," said Pat Caffrey, public works director in La Crosse. "Our biggest concern is the weather forecast."
Minnesota Emergency Management Agency spokesman Kevin Smith says local communities have been handling the threat well.
A chance of showers or storms was forecast for the region from last night into early next week, but officials said the rain was not likely to raise the river's level.
Scores of homes in Wisconsin, Minnesota and Iowa are already surrounded by water or partly flooded, and residents further downstream are watching the river rise as they wait for the crest, expected in Iowa over the next week.
Sen. Tom Harkin, D-Iowa, said he had asked Federal Emergency Management Agency director Joe Allbaugh to place the agency on alert status. FEMA staff were expected in Iowa to assess the situation.
"Their quick response could make the difference for thousands of Iowa families," Harkin said.
In downtown Davenport, pump generators droned as dozens of adults and children scooped sand into bags and National Guard members used hoses to keep water out of the streets. Earthen and sandbag dikes rose as high as 6 1/2 feet above River Drive.
On still-dry streets, city workers marked with pink paint where the water would reach 19 feet, 20 feet and beyond.
Animals were evacuated from an area Humane Society, and the rising floodwaters forced the closing of Rhythm City, one of the area's four riverfront casinos.
Across the river from Davenport, flood preparations also were under way in Moline and Rock Island, Ill.
The Mississippi topped 18 feet by early yesterday near Davenport, 3 feet above flood stage. It was expected to crest 30 miles upstream at Comanche on Monday or Tuesday somewhere between 23 and 24 feet - the river reached 22.98 feet there in 1993.
Elsewhere, flooded tracks blocked Amtrak passenger between Chicago and Minneapolis and delayed freight train traffic, and stretches of the Mississippi were expected to remain closed to barges for several more days.
Larry Daily, president of the Alter Barge Line of Davenport, estimated he was losing $50,000 a day with 250 of the company's 400 barges tied up along the river.
The longer the delay, the more chance of damage to the cargo, which ranges from grain to petroleum. Each barge carries about as much as 60 trucks.
"I want to say that this is a fairly unique situation," Daily said. "Unfortunately this is the third time in 10 years that this has happened."
On a flooded street in Prairie du Chien, where the Wisconsin River flows into the Mississippi, Patrick Lessard used a boat to ferry his wife and children from their home. The river reached 23.4 feet yesterday morning, 6.4 feet over flood stage, and was expected to crest at 23.7 feet.
Outside Rose Serpe's home, the sandbag dike was failing, and she expected water would flood the first floor.
"It is just going to be a big cleanup afterward, a big mess," she said. "There's nothing I can do about it."
Al Reed, who planned to remain in his home even as water seeped over a porch, said he may be getting too old to deal with the Mississippi's fury.
"I have put up with it all my life. I was born and raised on the river. When you get older, you can't take it anymore," the 62-year-old said. But he added: "I can stand here and cuss and swear at it."