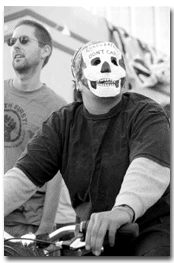 Matt Heinstand
A local protester wearing a skull mask demonstrates, along with 250 others, on the downtown intersection of East Congress Street and North Stone Avenue in protest of the ongoing North American Free Trade Agreement Friday afternoon. 12 people were arrested on charges of unlawful assembly and blocking traffic.
Twelve people were arrested in Tucson when a crowd of about 250 protested the international free trade summit Friday.
The protesters carried signs denouncing the North American Free Trade Agreement and the Summit of the Americas - a trade conference that opened Friday in Canada - where President Bush and other leaders debated a zone known as the Free Trade Area of the Americas.
As many as 20 people were initially detained, but some were cited and released. The 12 people arrested were booked into Pima County Jail on charges of unlawful assembly and blocking traffic, said Sgt. Judy Altieri, Tucson Police Department spokeswoman.
About 10 members of UA's Students Against Sweatshops participated in the demonstration, and none were arrested, said Jesse Kirchner, a linguistics sophomore and SAS member.
"The FTAA is basically the next step in globalization, and globalization is what sweatshops are all about," he said.
Some protesters complained about what appeared to be excessive force used by police to break up the protest. The demonstration was ended by police officers in riot gear.
One officer sustained an arm injury, and some protesters were injured as well, said police Capt. Sharon Allen.
One female protester was taken to a hospital with a head cut that wasn't serious, police said.
"It was completely peaceful until the police decided to break it up," Kirchner said. "We still did a good job with getting a lot of people out there and getting our message across, despite that."
The purpose of the summit is to discuss a U.S.-sponsored plan to create the world's largest free-trade zone from Alaska to Argentina.
Friday's protest took place near the location of the April 2 riot, when 17 people were arrested in a melee following the University of Arizona's loss in the NCAA basketball championship. Police have been criticized for using excessive force during that disturbance.
In Quebec, where the Canadian talks are taking place, police said nearly 30,000 protesters crowded around the summit site, with 2,000 growing violent. In two days of unrest, at least 34 police officers and 57 demonstrators have been injured, and there have been at least 150 arrests, police said. Police fired rubber bullets, water cannons and tear gas at hundreds of the rock-throwing activists.