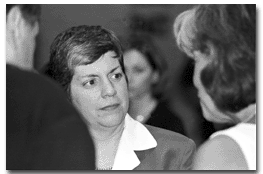 BEN DAVIDOFF
Arizona Attorney General Janet Napolitano (center) speaks Friday evening in the Rincon Room with Renate Janka, whose daughter, Debra Milke, has been on death row for murder since 1991. During Napolitano's visit to the UA, hosted by the Young Democrats, topics ranging from racial profiling to domestic violence were addressed.
Arizona Daily Wildcat
Napolitano says domestic violence and keeping tuition low are important issues to her office
Putting an end to racial profiling is important because it affects how law enforcement is viewed in a community, Arizona Attorney General Janet Napolitano said Friday night.
"Racial profiling is unconstitutional and wrong," Napolitano said to a group of about 100 UA students and Tucsonans. "We want to increase education about racial profiling. Even if that does not eliminate racial profiling, it will keep it on everyone's radar."
Napolitano's speech was sponsored by the University of Arizona Young Democrats in the hope that it would increase student awareness and show that students are involved in politics.
"As far as a political figure, she is one of the most important in the state," said Kelly Ward, president of the Young Democrats. "We thought it would be neat to have her here because she is a Democrat and a woman. She really does a lot for women's issues."
Napolitano, the highest-ranking Democrat in Arizona, also addressed domestic-violence issues that her office is currently focusing on.
"Domestic violence is the number-one crime in Arizona," she said. "Every 40 minutes, an Arizona child is a witness to an act of domestic violence."
Trying to fund more domestic-violence shelters and increasing public awareness through campaigns were priorities in her office, she added.
Napolitano began her speech with a moment of silence for Sen. Andy Nichols, a UA faculty member and veteran lawmaker from Tucson who died Thursday night.
She also told students she was in support of keeping tuition as free as possible, as stated in the Arizona Constitution.
After speaking for about 15 minutes, Napolitano addressed issues and questions from the audience.
Jane Williams, a member of Amnesty International and a senior majoring in German, said she came to show support for Debra Milke, the first woman on death row in Arizona since 1933.
Napolitano responded by explaining that her office had formed a partnership with Arizona State University's Center for Urban Inquiry, and the two were collecting demographic information on people who were sentenced to death.
The next step, she continued, would be to study five years of cases from four counties where the death penalty was not sought or imposed when it could have been and compare them with cases where it had been.
The Young Democrats said they hoped that Napolitano would run for governor in 2002, Ward said.
"We want to show the attorney general that UA students are interested in politics," said Tom Modica, Young Democrats secretary and a public administration and policy graduate student. "We wanted this to be more like a forum or an activism rally than a speech."
Paul Eckerstrom, an assistant attorney general in Tucson, helped the Young Democrats plan the event.
"All of the issues that the Attorney's office handles are important to college students as well as the rest of society," Eckerstrom said. "College students should vote because the government impacts everything, especially funding, and they listen to voters."