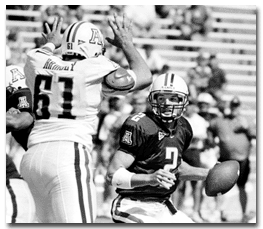 KEVIN KLAUS
Freshman quarterback John Rattay attempts to avoid UA defenders during Saturday afternoon's Spring Game at Arizona Stadium. In the game, Arizona's Blue Team - made up of mostly starters - defeated the Red Team, 21-0.
By Ryan Finley
Arizona Daily Wildcat
Wildcats throw 42 times in pass-happy scrimmage
In the end, John Mackovic's first Spring Game looked a lot like a Dick Tomey-run affair.
Highlighted by stellar defense and a lackluster offensive performance, Saturday's annual Spring Game at Arizona Stadium proved that the pass-happy offensive scheme that Mackovic hopes to implement in the fall isn't quite ready.
More than 4,500 UA fans - lured by free pregame food - opted to watch the scrimmage instead of the NFL Draft, which took place at the same time.
"We have only gotten part way through a long journey," Mackovic said after the game, in which the UA's Blue Team - made up of both offensive and defensive starters - knocked off the Red Team, 21-0. "I thought we did a nice job, but everybody still has a lot of work to do over the summer."
As expected, both offenses - playing without freshman running back Clarence Farmer, sophomore running back Leo Mills and sophomore wide receiver Bobby Wade - sputtered during the 90-minute scrimmage.
Both teams combined for minus 26 yards on 42 carries in the pass-happy scrimmage.
The offenses combined to throw the ball 42 times, which Mackovic said was integral if the Wildcats are to pick up his dynamic, air-it-out system.
"We just can't develop the passing offense if we don't throw a lot on offense," he said. "We threw a lot of passes today and we gave up some sacks. But we need to put the younger linemen under the gun."
It was evident that both UA squads had yet to adapt to the offensive scheme being implemented by Mackovic, who came to Arizona in early December after Dick Tomey's resignation. Last year's Wildcats went 5-6 and lost their final five games of the season.
Linebacker Ray Wells, a junior college transfer, had a 41-yard interception return to spark the Blue Team.
The junior attributed the win to the defensive line and new defensive coordinator Larry Mac Duff's on-field demeanor.
"Our defensive line really set the tone for us," said Wells, a transfer from Mesa College in San Diego. "Coach was great, too. He wanted to take us to another level."
Senior Eli Wnek, who returned to the defensive line at the beginning of spring practice after a year at fullback, led all UA defenders with 6 sacks.
Offensively, junior Jason Johnson further proved why he is the early favorite to replace Ortege Jenkins at quarterback. Of UA's six signal-callers - Johnson, Kyle Slager, Erik Garcia, Cliff Watkins, Steve Fleming and John Rattay - it was the junior who had the best outing.
Johnson finished the day 10 for 14 with 141 yards passing and a touchdown in the Blue Team's victory. The junior completed his first seven passes.
"I think I showed that I have savvy," he said. "When I had my chance to compete in a quarterback situation where you compete everyday, I showed that I'm very comfortable with that."
While Mackovic said he was excited with the junior's passing, he was frustrated by a third-quarter passing play in which Johnson opted to sneak rather than throw.
Facing a fourth-and-three situation, the first-year head coach called for a deep touchdown pass. Johnson, hoping to get the first down, tucked the ball and sneaked it for a first down, ignoring a wide-open Wildcat receiver streaking down the sideline.
According to Mackovic, the conservatism on Johnson's part goes against the spirit of UA's new scheme.
"(When) we call that pass, I'm not worried about a first down," Mackovic said after the game. "We're going for it. You have to go for it. We're not going for just five yards, we're going for a touchdown."
Despite periodic hesitation under center, Johnson said he is confident that he'll enter the fall listed as the team's No. 1 quarterback.
"I was able to pick up the offense pretty quickly," he said. "That came together to pay off. It was fun to finally get out there with the first team and try to put some things together."
Rattay, the highly-touted freshman transfer from Tennessee, struggled again, completing just 1 of 6 passes for 20 yards in limited action.
"I know I'm still very young and there's a lot I have to learn," he said. "The key is to get as many (repetitions) as I can. I think I learned a lot."
Extra Points... Mackovic handed out his "Bear Down Awards" during a halftime ceremony, honoring sophomore offensive tackle Brandon Phillips as the team's most improved offensive player; Wells as the team's most improved defensive player; and Wnek as the team's Outstanding Hustle Award winner ... As part of a sponsored contest, one UA fan was allowed to diagram the first play of the second half. The play - which called for five receivers and two blocking backs in a shotgun formation - ended in an incomplete pass to a tailback ... The Wildcats now pray following practices and games, with Mackovic leading the invocation ... Wells wears No. 7 on the field, a rare number for a linebacker. "I've worn number 11 my whole life," he said. "But when I came here, (defensive back) David Laudermilk had number 11. I'm a gambling man, so I guess 7 and 11 go together." Wells vowed to get his old jersey number back by the time the season starts, even if it means somehow bribing Laudermilk ... The Wildcats held their first "Pigskin Pig-Out" prior to the scrimmage, where fans took part in free food and drinks one hour prior to the game.