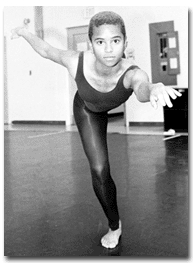 KEVIN KLAUS
Fine arts studies senior Susu Gray rehearses for an upcoming performance Friday afternoon at the Ina Gitting's building. Gray was recently selected "Senior of the Year" by the College of Fine Arts.
Arizona Daily Wildcat
Fine arts student Susu Gray awarded 'Senior of the Year' by College of Fine Arts
Let your soul be your pilot.
That's the motto fine arts studies senior Susu Gray has followed since she was a senior in high school. Now she will be honored as Senior of the Year, an honor given to her by the UA College of Fine Arts.
Although five other seniors were given awards by each of the college's departments, Saadatu Susumara Gray - "Susu" to friends and family - was awarded Senior of the Year for the college as a whole
"I just got this letter in the mail that said 'Congratulations - you're an Outstanding Senior,'" she said with a tone of surprise. "So that's cool!"
Typically, most students in the College of Fine Arts choose to focus on one specific area of study, but Gray did not. Rather than having to focus her efforts on one area, she chose to incorporate three into a fine arts studies major.
Fine arts studies students are asked to pick two studies in the College of Fine Arts and then another from any other department on campus.
"I decided to do it for two reasons," she said. "One was I wasn't quite sure what I wanted to do with my art background but I knew I didn't want to stop. The other reason was just because I'm interested in everything - everything plus one. I just couldn't decide on a major."
Gray said she decided to study the areas of dance, music and Spanish, primarily because she's had a lot of experience with all three in the past.
"I've done music and dance forever. I've always been a pianist and done a lot of dance. When I got to college, I wasn't sure if I wanted to pursue those professionally but I knew I didn't want to stop doing piano and dance," she said. "I'm focused more on dance right now but both are part of my major."
Focusing on dance for the past year has also led Gray to form several close relationships with faculty in the University of Arizona's Dance Division. Suzanne Knosp, an associate professor of dance and the dance division's music director, said she was first introduced to Gray when she taught her piano lessons several years ago.
"She's a remarkable young woman - the calm in the face of the storm," Knosp said. "She's excited about anything she does and does it to the best of her ability. She produces fine work no matter what she does."
Not only has Knosp taught Gray piano but she has also aided in her education of dance choreography. as well as been a general mentor to Gray throughout her college career.
"She's truly what the fine arts is about," Knosp said. "She's a highly motivated student in many areas of interest. She pulls them all together to create something and develop skills she can take forward into her life."
After graduation, Gray said she would eventually like to attend graduate school and earn her masters degree. For right now, however, she is planning to enter the Peace Corps for two years and hopes to be stationed in Africa.
"I haven't really thought about grad school. It hasn't really crossed my mind," she said. "I don't really want to go right now because I kind of want to take a break from school and do some international work."
Other awards and distinctions Gray has received include the Creative Achievement Award for the College of Fine Arts last fall as well as a finalist for the Bill Gates Millennium Scholarship program. Gray is also the Arts committee chair for the University Activities Board, works at Centennial Hall and has worked with the UA's New Start program.
"She's an artist in many ways - a musician and dancer. She's also multi-lingual and multi-cultural," said Nina Janik, an associate professor of dance and one of Gray's past teachers. "She has a perspective that's larger than most students would have. She's also an extraordinarily kind person - very concerned about the welfare of fellow students both personally and idealistically."
Though Janik said she was a very "quiet but extremely focused" student, Gray is very aware of the qualities she possesses which made her an exceptional candidate for this award.
"I think I'm a very positive person. I think I give off a good energy, a positive energy," she said. "I'm a very exploratory person. I like to see lots of different things and meet lots of people. I'd just like to give a big thanks to everyone. I've been really, really blessed with great people in my life."