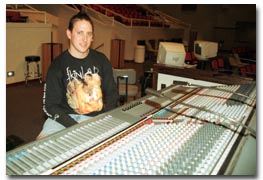 JONATHAN V. PORCELLI
Media arts senior John Matter sits beside his 48-channel sound board at Centennial Hall. Matter was recently named "Senior of the Year" by the media arts department of the College of Fine Arts.
By Graig Uhlin
Arizona Daily Wildcat
Media arts senior John Matter doesn't need any recognition.
"I'm content to be the man in the back that's working hard and getting things done and, maybe, nobody notices," he said.
But the media arts department is paying attention. Matter was recently named its "Senior of the Year" - an honor that Matter said he was certainly not expecting.
"It kind of surprised me. I didn't think that anybody would remember who I was. I didn't expect the recognition," he said.
Matter, who works in sound, said he is used to the low visibility
"People don't necessarily always notice sound, but that doesn't always bother me," he said. "Because, sometimes, they may not consciously notice it, but they still hear it - it goes in - and that affects how they feel about something."
"And if no one notices," Matter added, "then sometimes that's the way it's supposed to be."
Matter is currently focusing his efforts on sound design for theater. He assisted in the sound design for the Arizona Repertory Theater's productions of "King Lear" (now showing at the Marroney Theater) and last semester's "The Good Doctor." He also worked on the sound for a one-act play for this past weekend's One-Act Festival.
Matter said much of working in sound is technical - "tinkering with the devices" and so on. But he also said his work in theater allows him to utilize his creativity.
"You have to go through the script and do script analysis and find where good places are to put either sound effects or music behind things that are important, highlighting conflicts within the script," he said. "You can use sound to establish what kind of character a person is."
Matter, who now works at Centennial Hall, said he enjoys the more technical aspects of his line of work, which composed the main bulk of his responsibilities at his prior jobs. Matter worked as a radio production assistant at KUAT, an engineering director for KAMP student radio, where he also had a long-running radio show, and held an internship at a local recording studio.
Matter's work ethic is part of why the department decided to honor him, said Beretta Smith-Shomade, an assistant professor of media arts who was one of the faculty members to nominate Matter.
"I think Mr. Matter is a really contientious - he's a smart guy - but he's very contientious," she said. "I thought he worked really hard."
Smith-Shomade said the selection process for the award is rather informal, but the decision is not a hard one to make.
"Those who are just all around really good, and really on the ball, are few. So you ain't talking about a whole lot of folks to deal with," she said. "You may have, in any given year, I'm going to say 20 - and I think I'm stretching - 20 students that I are just truly outstanding. But those who are just about business, all around, whether it's school, whether it's home, their professional life, extracurricular activities - you can trust them, you can ask them to do things. And even if they're busy, they'll do it."
Following graduation, Matter said he plans to attend graduate school to study theater sound design. He has applied to several schools and, so far, been accepted to the University of California at Los Angeles. As far as beyond that, Matter said, he doesn't know what he wants to do, but he does know for certain what field he wants to work in.
"It's got to be sound. Sound or nothing, pretty much. I could do theater sound design. I wouldn't mind touring for a while, mixing for either a show or a band. Honestly, I'm not quite sure what I want to do. Grad school will probably help me narrow that down a bit."